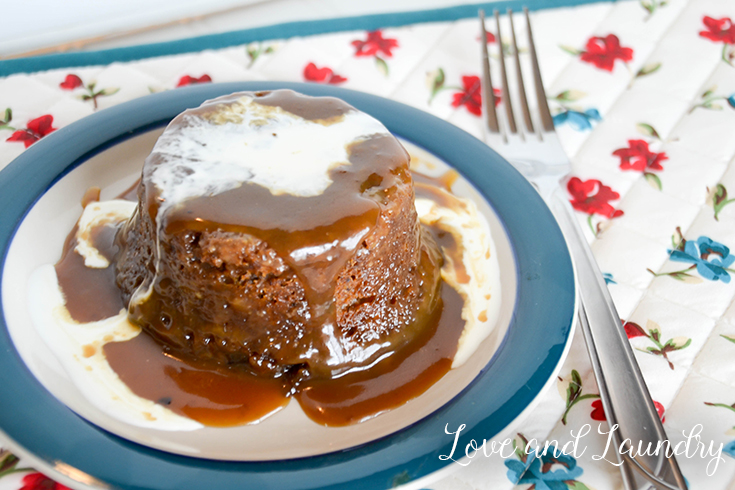 We've been watching The Great British Baking Show on Netflix the last couple of weeks. Have you seen it? I think it is funny and strangely enough, sort of relaxing to watch at the same time. If you haven't seen it, here's a brief run down. It's a British reality baking competition and it is absolutely nothing like baking competition shows we have here in the US. Everyone is so polite! And they are all amateur bakers, so I feel like everyone has equals footing in the competition. Well, if you haven't watched it, then definitely give it a try! It's really my favorite right now!
All of this watching of British baking has really gotten me in the mood to try some of my own British baking at our house. We went to England in 2013 and tried some of their delicious food. Sticky Toffee Pudding unfortunately wasn't one that we got to experience over there. I have heard so much about it over the years, I wanted to finally taste what everyone was talking about. I knew I wanted a real British version, not an American knock-off. So, I scoured the internet to find a traditional recipe. And I was successful! It came from a British website and it had high reviews. The only problem was, everything was measured in grams and I didn't recognize half of the ingredients. I did a bit of research and found that I actually had most of the ingredients in my cupboard (all except the dates), the British just have different names for things like molasses. After several tries at recipe testing and translating, this is what I came up with. And it is To. Die For. It is so, so good! Almost like dessert comfort food. Is that a thing? Even Dave, who isn't really a dessert person, said he loved how it didn't feel heavy or rich. Sticky Toffee Pudding Cake is my new favorite dessert for sure!!
So, basically, this is what Sticky Toffee Pudding Cake is. And if this description doesn't tempt you, then you must not love good food…seriously! You bake little, moist date cakes. Then soak them overnight in a toffee sauce that is made from cream, butter, brown sugar, and molasses. Next you re-heat them in the oven so that the toffee sauce gets bubbly and sticky. Finally, you serve them with a drizzle of cream on top.
But before we get into that, let me tell you a little bit about British pudding. It is not actually pudding (although it can be). Pudding is a word Brits often use for desserts in general. So, although, this is called Sticky Toffee Pudding, it is in fact a sticky, caramel-y, creamy cake.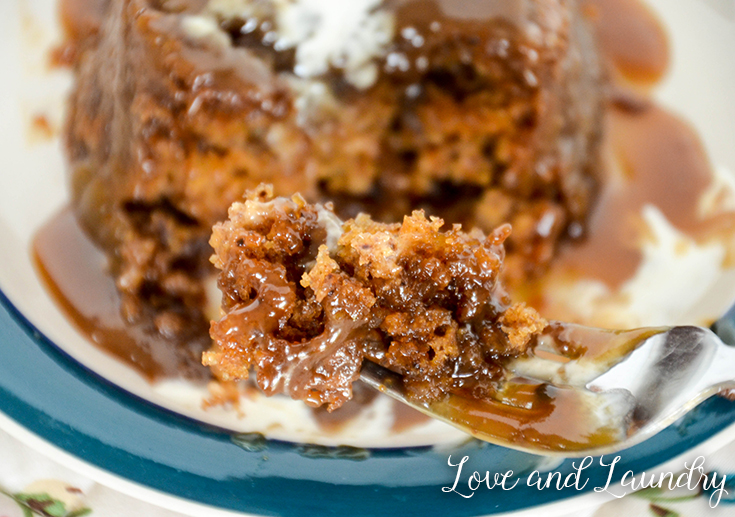 Another thing I really love about this recipe is that it is really best to bake the tiny cakes the day before you plan to serve them, although you can serve them right away. Letting them sit overnight  gives them the chance to soak up all of that sticky toffee saucey goodness. I love recipes like this because when we have company over, I can prepare dessert a day ahead, making less work right before everyone comes over. Also, this is quite fancy, which will be sure to impress. If you do make it the day before, you'll want to warm it in the oven before you serve it.  Baking it a day early gives this decadent dessert a chance to really develop it's flavors. But don't let the early preparation fool you, this is an easy recipe to make.
If you really want to experience it just like the British do, top it with a splash of heavy cream before you serve it.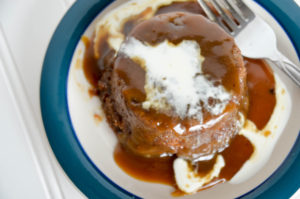 Print
Sticky Toffee Pudding Cake
Yield 7 cakes
Sticky Toffee Pudding is a traditional British dessert. It is delicious and not too heavy - almost like dessert comfort food. They are little moist date cakes that get soaked in a tasty toffee sauce after they are baked. Then, drizzled with more toffee sauce and a splash of cream. They really are heaven in dessert form!
Ingredients
For the Cake
22 pitted dates, chopped small (or about 1/2 of pre-chopped dates)
3/4 cup boiling water
1 teaspoon vanilla
1 1/3 cup self-rising flour
1 teaspoon baking soda
2 eggs, beaten
6 tablespoons butter, softened
1/2 cup light brown sugar
2 tablespoons molasses
1/2 cup milk
For the Toffee Sauce
1 cup dark brown sugar
4 tablespoons butter
1 cup heavy cream
1 tablespoon molasses
Instructions
Add the chopped dates to the boiling water. Cover and set aside for at least 30 minutes.
After the dates have sat for 30 minutes, smash with a fork and stir in the vanilla extract.
Preheat the oven to 325°F.
Grease and flour 7 ramekins. Set them aside.
While you are waiting for the dates to soak, beat the butter and brown sugar together for several minutes until they are creamy.
Add the eggs, molasses and baking soda and mix well.
Fold in one third of the flour. Then half the milk. Alternate until all of the milk and flour are mixed in.
Fold in the soaked dates.
Divide evenly between the ramekins and bake for 22-30 minutes. (It should be firm and a toothpick comes out clean. Check at 22 minutes and then every few minutes until done).
While the cakes are baking, make the toffee sauce. Mix all of the toffee sauce ingredients in a small sauce pan. Bring to a boil over medium heat and cook for 2-3 minutes or until the sauce turns a nice caramel color. Set aside
After the cakes are done baking, turn them out of the ramekins and let cook for a few minutes.
Pour half of the toffee sauce in a 9x13 baking dish, then place the cakes on top of the sauce. Pour remaining sauce on top of the cakes.
They can be served right away, or for an even better cake, let the sauce soak overnight. The cakes do not need to be refrigerated, but do cover them with foil. Before serving, re-heat in a pre-heated 325°F oven for 15-20 minutes. The sauce should get nice and bubbly.
Notes
I highly recommend using Sunsweet Dates. This is NOT sponsored, but I tried several different brands and these were the most moist and had the best texture.
If you want to serve these the traditional British way, pour a drop of cream on top of the cakes before serving. Trust me - you won't regret doing that! It's delicious!
Courses Dessert
Cuisine British
Nutrition Facts
Serving Size 1 cake
Amount Per Serving

Calories 648

% Daily Value

Total Fat 30.8 g

47%

Saturated Fat 18.7 g

94%

Unsaturated Fat 10.3 g

Cholesterol 145.6 mg

49%

Sodium 544 mg

23%

Total Carbohydrates 91.4 g

30%

Dietary Fiber 1.9 g

8%

Sugars 72 g

Protein 4 g

8%
* Percent Daily Values are based on a 2,000 calorie diet. Your daily values may be higher or lower depending on your calorie needs.