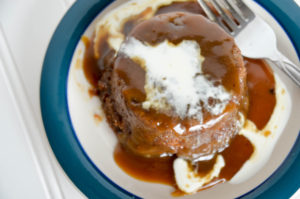 Sticky Toffee Pudding Cake
Yield 7 cakes
Sticky Toffee Pudding is a traditional British dessert. It is delicious and not too heavy - almost like dessert comfort food. They are little moist date cakes that get soaked in a tasty toffee sauce after they are baked. Then, drizzled with more toffee sauce and a splash of cream. They really are heaven in dessert form!
Ingredients
For the Cake
22 pitted dates, chopped small (or about 1/2 of pre-chopped dates)
3/4 cup boiling water
1 teaspoon vanilla
1 1/3 cup self-rising flour
1 teaspoon baking soda
2 eggs, beaten
6 tablespoons butter, softened
1/2 cup light brown sugar
2 tablespoons molasses
1/2 cup milk
For the Toffee Sauce
1 cup dark brown sugar
4 tablespoons butter
1 cup heavy cream
1 tablespoon molasses
Instructions
Add the chopped dates to the boiling water. Cover and set aside for at least 30 minutes.
After the dates have sat for 30 minutes, smash with a fork and stir in the vanilla extract.
Preheat the oven to 325°F.
Grease and flour 7 ramekins. Set them aside.
While you are waiting for the dates to soak, beat the butter and brown sugar together for several minutes until they are creamy.
Add the eggs, molasses and baking soda and mix well.
Fold in one third of the flour. Then half the milk. Alternate until all of the milk and flour are mixed in.
Fold in the soaked dates.
Divide evenly between the ramekins and bake for 22-30 minutes. (It should be firm and a toothpick comes out clean. Check at 22 minutes and then every few minutes until done).
While the cakes are baking, make the toffee sauce. Mix all of the toffee sauce ingredients in a small sauce pan. Bring to a boil over medium heat and cook for 2-3 minutes or until the sauce turns a nice caramel color. Set aside
After the cakes are done baking, turn them out of the ramekins and let cook for a few minutes.
Pour half of the toffee sauce in a 9x13 baking dish, then place the cakes on top of the sauce. Pour remaining sauce on top of the cakes.
They can be served right away, or for an even better cake, let the sauce soak overnight. The cakes do not need to be refrigerated, but do cover them with foil. Before serving, re-heat in a pre-heated 325°F oven for 15-20 minutes. The sauce should get nice and bubbly.
Notes
I highly recommend using Sunsweet Dates. This is NOT sponsored, but I tried several different brands and these were the most moist and had the best texture.
If you want to serve these the traditional British way, pour a drop of cream on top of the cakes before serving. Trust me - you won't regret doing that! It's delicious!
Courses Dessert
Cuisine British
Amount Per Serving

Calories 648

% Daily Value

Total Fat 30.8 g

47%

Saturated Fat 18.7 g

94%

Unsaturated Fat 10.3 g

Cholesterol 145.6 mg

49%

Sodium 544 mg

23%

Total Carbohydrates 91.4 g

30%

Dietary Fiber 1.9 g

8%

Sugars 72 g

Protein 4 g

8%
Recipe by Love and Laundry at https://loveandlaundry.com/sticky-toffee-pudding-cake.html