Oh, boy, do I love an easy dinner that tastes great! Especially during this time of year. The holiday season is my very favorite and my very most busy! I just can't help myself and every year I fill my schedule up with making tons of homemade Christmas presents. I know that I can buy pajamas, but it's so much more fun to make them for my kids! But making so many gifts by hand leaves me very little time for making a good dinner. I hate going out to eat all the time – mostly because it's unhealthy. But let's be honest….Christmas is expensive and going out to eat isn't always in the budget! That's why I LOVE this Maple Bacon Chicken cooked on a sheet pan in the oven. Everything goes in together. It's all finished at the same time. And it's healthy and yummy!
I can't go any further without first thanking OXO for sending me the kitchen tools to create this awesome dish! OXO products are really the BEST and if you're still looking for Christmas gifts for anyone who loves cooking, you can't go wrong with OXO! Even though they sent me their products in exchange for this blog post, I am completely being honest when I say that their quality is unmatched!
For this recipe, I used the OXO Non-Stick pro Half Sheet Jelly Roll pan. It is AWESOME and bakes very evenly. It's great for a dinner like this, but also Christmas baking! I'm sure I'm not the only one with Christmas cookies on the menu in the coming weeks!
I also used two Silicone Roasting Racks. While these are great for baking meat or bacon in the oven, they would also work really well in a pressure cooker….just saying… I put the chicken on the roasting racks so that they would be separated from all the veggies.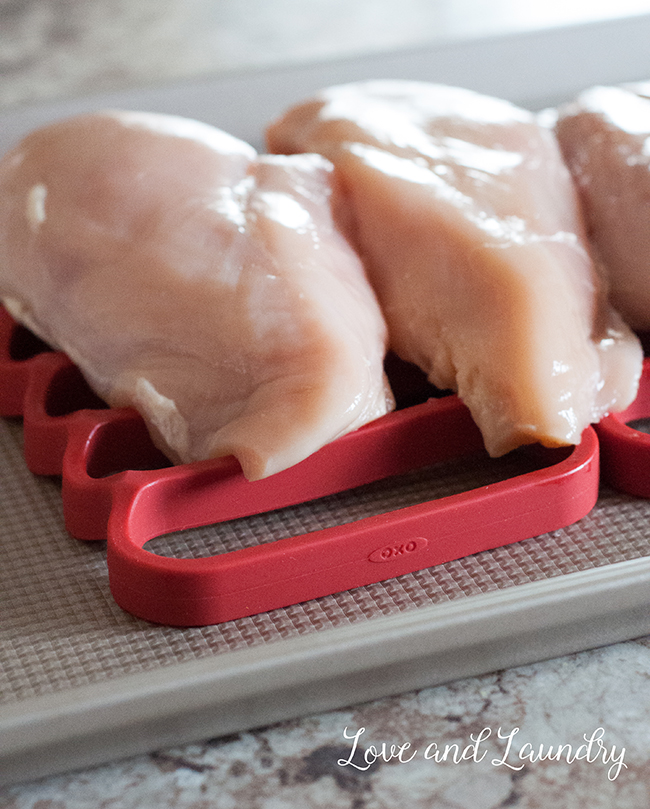 For this recipe, you'll want to get about 1 1/2 – 2 lbs of chicken. Season with salt and pepper if you'd like. Place the chicken on the roasting racks.
Meanwhile, start the sauce. I melt 1/2 butter in a saucepan on the stove and sauté about 2 teaspoons of minced garlic in the butter for a couple of minutes. Once the garlic is cooked, add 1 cup of pure maple syrup.
If you want to take your chicken up about 5 notches, use an OXO Flavor Injector to add some of the butter/maple sauce straight into the chicken. YUM!!!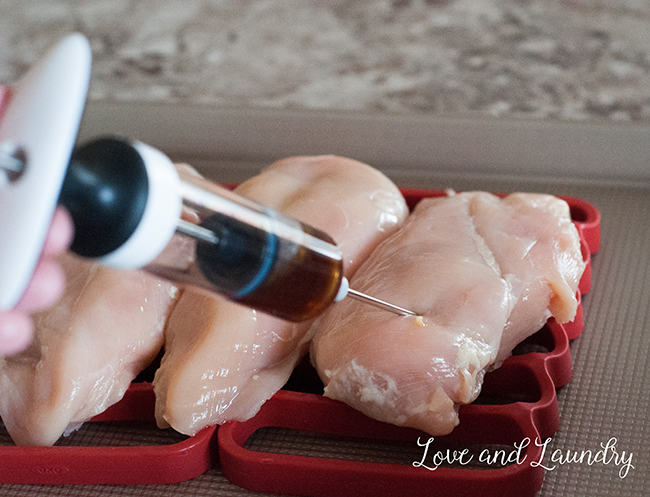 After injecting the chicken, I took the vegetables and stirred them up to coat them really well in the butter/maple sauce. I bought actual sweet potatoes for this recipe, so they are white….maybe it's the variety I bought. But anyway, those are sweet potatoes, I promise! I also used brussel sprouts. If you hate brussel sprouts, you could always change them out for something like carrots. But, seriously, try them this way! There is something about the maple syrup that cuts the bitter flavor and makes them SOOO divine! Nestle the vegetables around the chicken that's already on the sheet pan.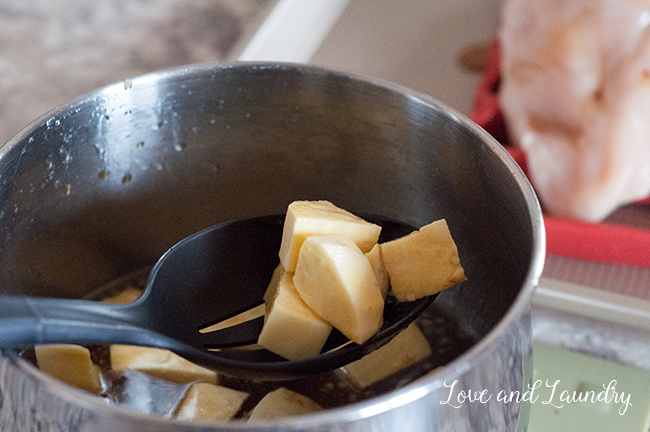 Chop up 1/2 a pound of bacon and sprinkle it all over the vegetables. The salty bacon makes this dish over the top! It it so, so good! Then take the remaining butter/maple sauce and drizzle it all over the vegetables, bacon, and chicken.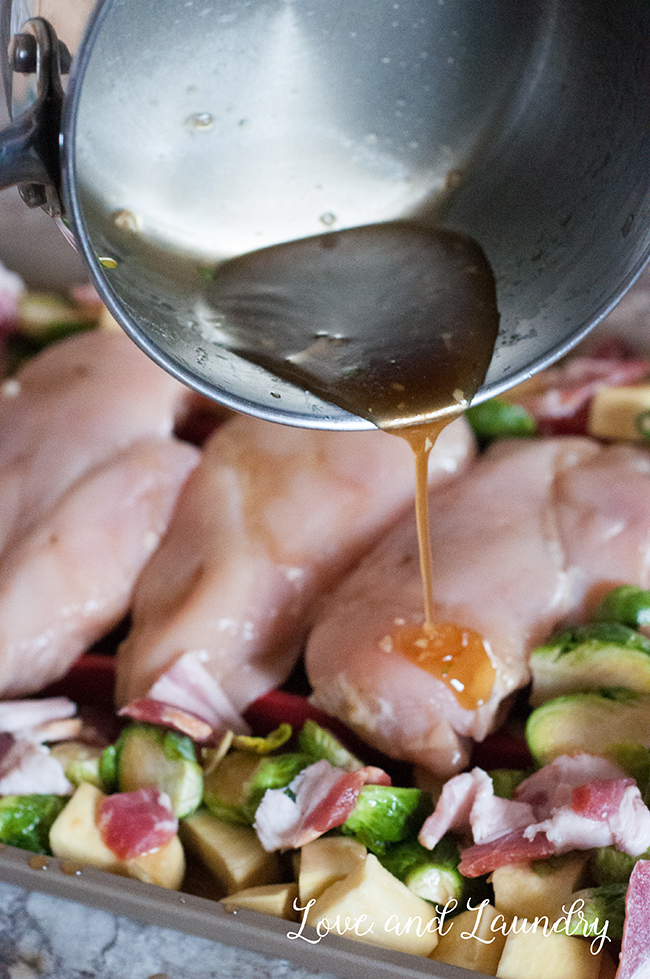 Roast at 400 for 30-35 minutes (depending on how thick your chicken breasts are. Then finish off by broiling it all on high for about 5 more minutes. Remove from the oven and let rest for 3 minutes. You can check that your chicken is at 165 with an OXO Chef's Precision Digital Instant Read Thermometer. It is super fast and very accurate! And love it because the head tilts so you an easily read the temperature of your food from any angle!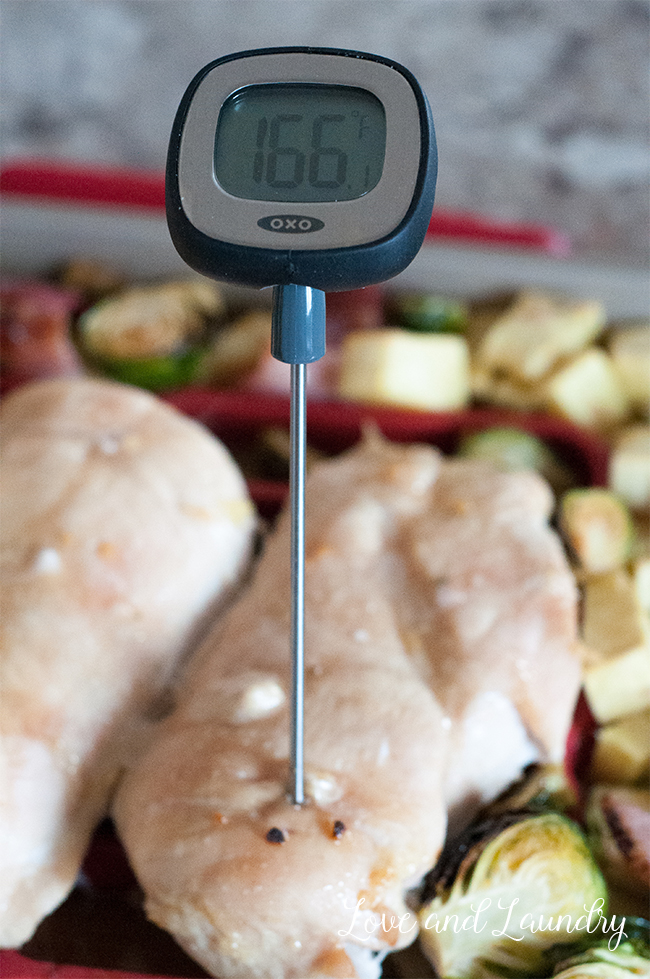 And that's it! It's ready for you to enjoy!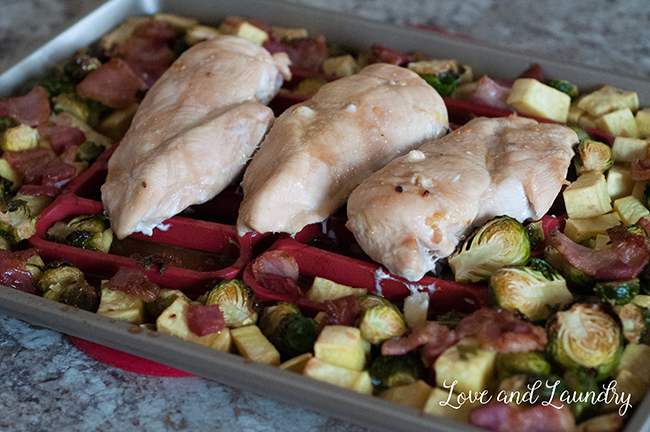 Oh my goodness, I can't tell you how much I love this dinner! I also love that I can cook everything all at once in one sheet pan.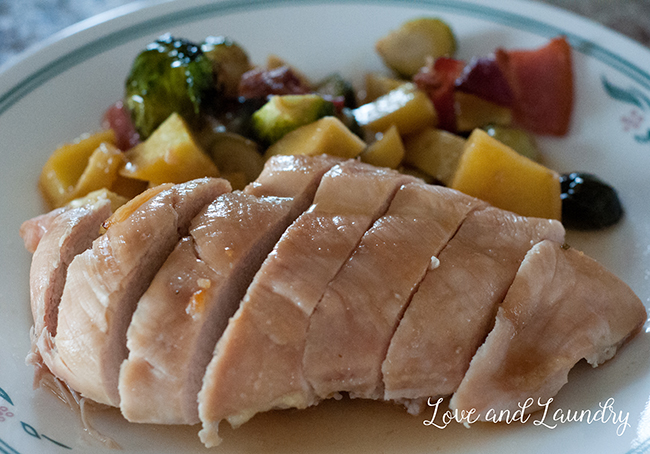 And thank you to OXO for providing me with the right tools for the job!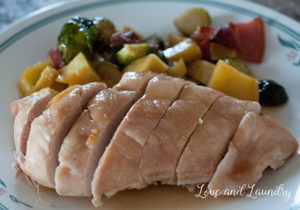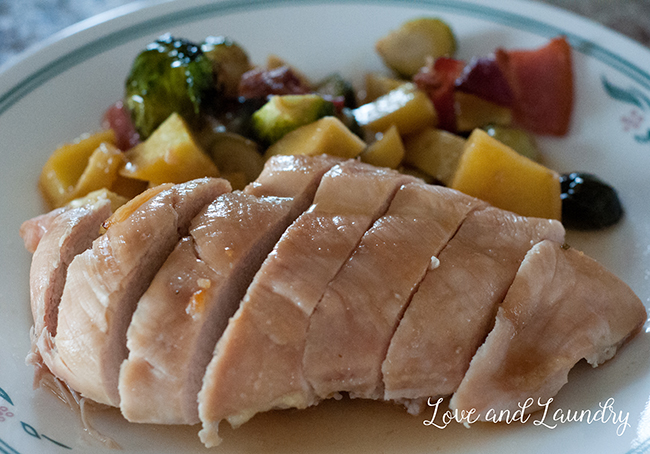 Print
Maple Bacon Chicken Sheet Pan Dinner
Ingredients
1 1/2 lbs chicken breasts
2 medium sweet potatoes, peeled and diced
3/4 lb brussel sprouts, chopped in half
1/2 lb bacon
1/2 c butter
2 cloves garlic (or 2 tsp minced garlic)
1 cup maple syrup
salt and pepper to taste
Instructions
Preheat the oven to 400 degrees. Mince the garlic and chop the vegetables.
Season the chicken and place in the center of the baking sheet.
Meanwhile. in a saucepan, melt the butter. Add the garlic and saute for 1-2 minutes. Pour in the maple syrup and set aside.
Using a slotted spoon, coat the vegetables with butter/maple sauce in the saucepan. Place the vegetables on the baking sheet around the chicken.
Cut the bacon into pieces and add on top of the vegetables.
Drizzle the remaining butter/maple sauce onto the chicken and the vegetables.
Place in the oven and bake for 30-35 minutes (depending on the size of the chicken breasts it is done when the chicken reaches 165 degrees). Broil on high for an additional 5 minutes to crisp up the bacon and vegetables.
Let the chicken rest for 3 minutes and serve immediately