School started last week at our house. My kids have officially been in for one whole week now! It still feels like I'm trying to catch up from the crazy of the summer. Summer really is my favorite season. But I'm always grateful to get back into the structure that the school year brings.
Before I get into my post, I have to do a shoutout to OXO for sending me the tools to make these amazing cupcakes! I'll tell you more about them later. Did you know that September is National Childhood Cancer Awareness Month? I didn't either! But when I found out that OXO was looking for bloggers to help promote the Cookies for Kids' Cancer 4th Annual 50 State Challenge, I knew for sure I wanted in! Several years ago, I took our youngest to the doctor because he had some lumps on his neck. The doctor immediately starting doing tests to check for Lymphoma and I was scared to death that our then 3 year old had cancer! It was a real wake up call about how serious cancer is for kids. Thankfully, he didn't have cancer, but it gave me so much more compassion for moms of kids who do have cancer.
Did you know that you can participate in the Cookies for Kids' Cancer 4th Annual 50 State Challenge as well? It's easy!! All you have to do is have a bake sale, run a race, or put together a fundraiser at your school and register your event HERE. And OXO is taking it a stop further by matching your proceeds if you chick that you were inspired by OXO when you register! So awesome!! I love working with companies that are so generous!
Want to know what I baked?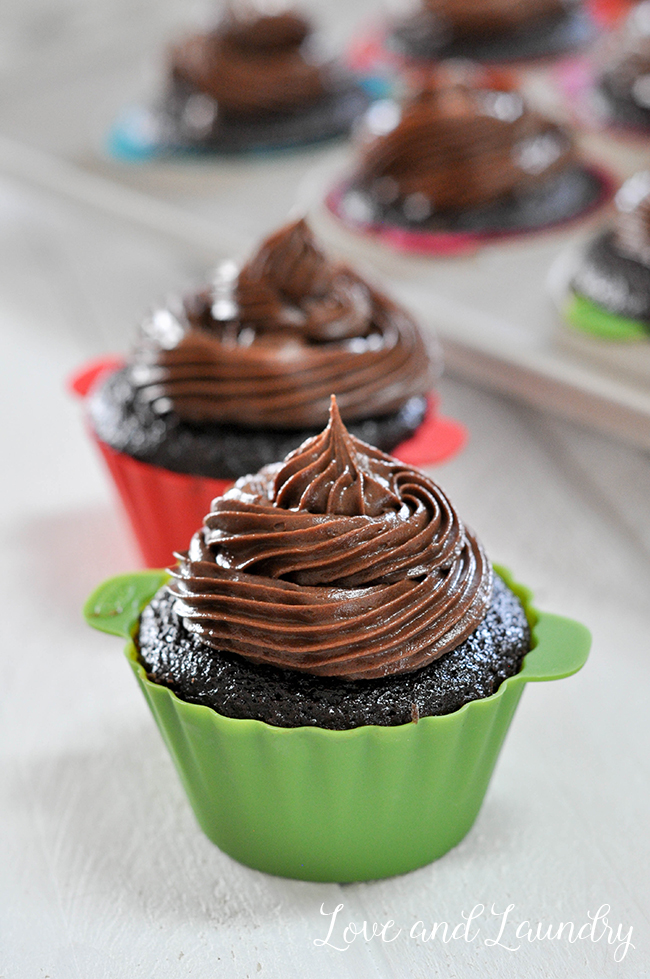 Let me start out by saying that these are my FAVORITE, favorite cupcakes! I've been wanting to blog about them forever, but I always eat them up before I have the chance to take really good photos. The reason that I call them Chocolate, Chocolate, Chocolate cupcakes is because it is a chocolate cake with a chocolate ganache filling and topped with the most creamy chocolate frosting. And these are seriously the most moist cupcakes you've ever had! They are so good that I often bake them and deliver them as treats to my friends for their birthday. Oh my goodness, just blogging about them makes me want to make them all over again! Haha!
OXO was so generous and sent me one of their famous Muffin Pan's, some silicone Baking Cups, and a Baker's Decorating Tool to put the frosting on (which was by far my favorite!). I put links to each product if you click on the name it will take you to more info. All I can say is that every OXO product I've ever used is dreamy!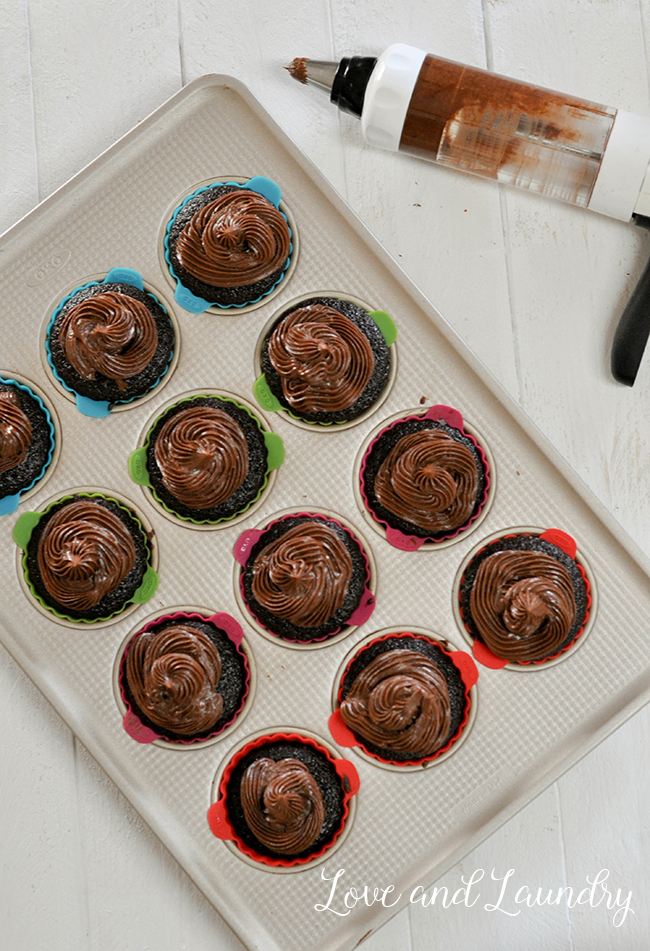 What I love about this recipe is that you put the chocolate ganache right on top of the cupcake batter and it bakes inside creating a filling without the work of actually filling cupcakes. That can be a messy job when they're all baked up! But the ganache filling also makes the cupcakes super moist. These are really as good as any cupcake you would buy at a cupcake bakery. I promise!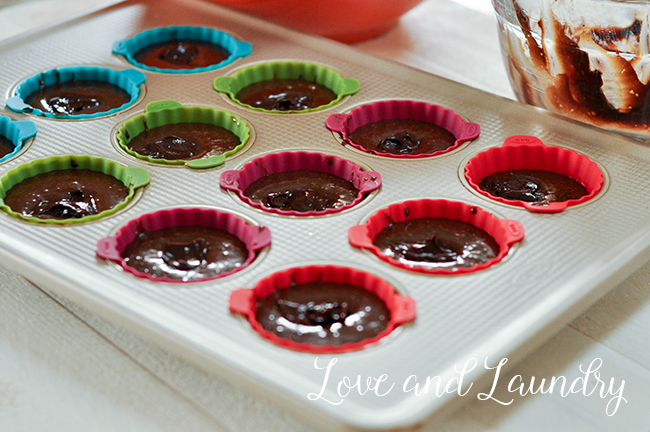 Seriously, SOOO good!!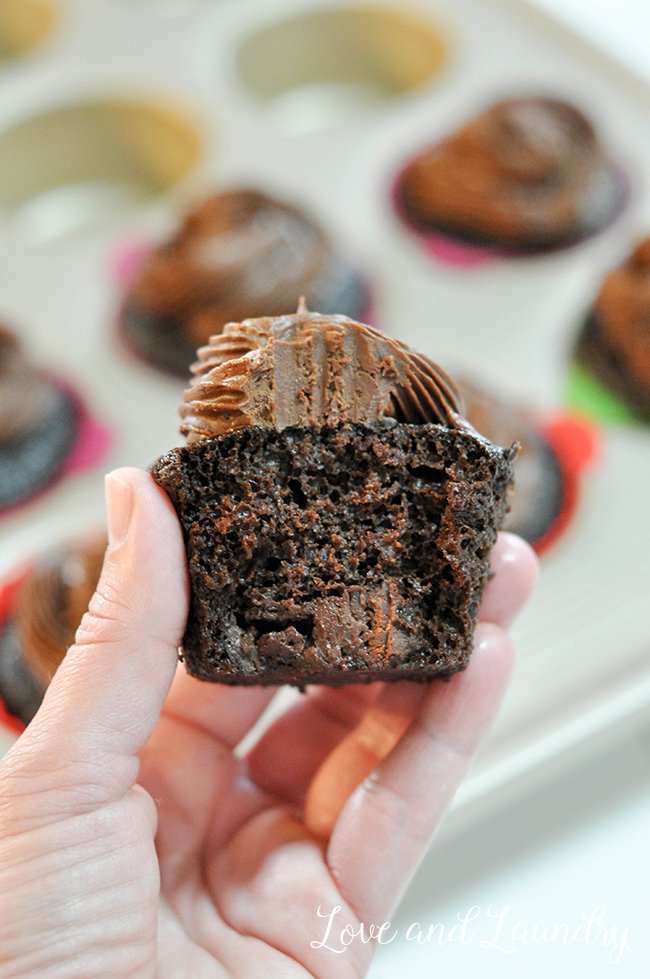 So, without further ado, here is the recipe!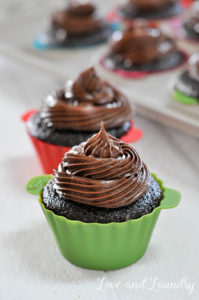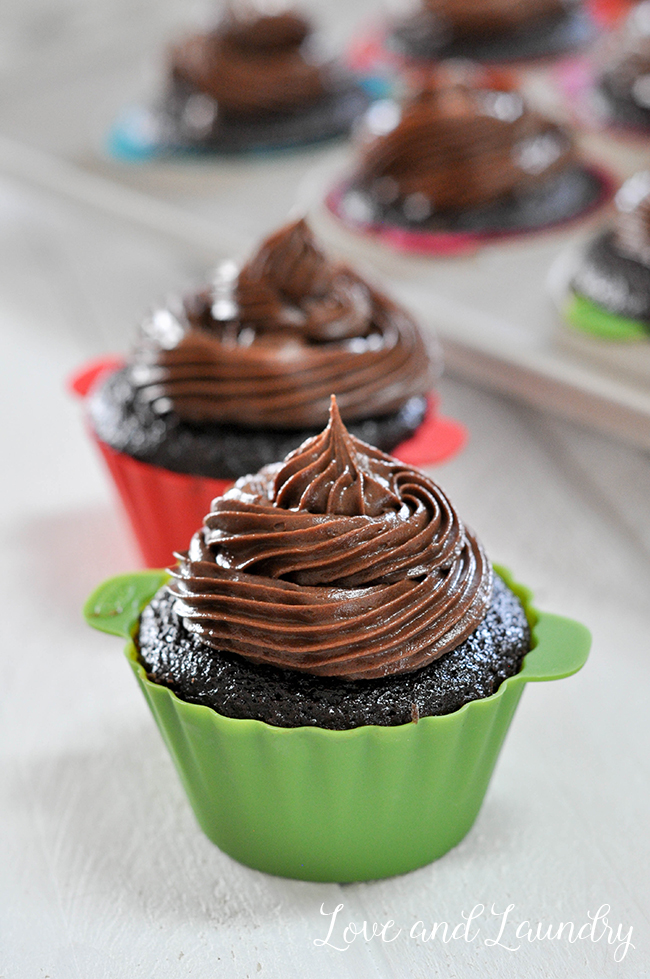 Print
Chocolate Chocolate Chocolate Cupcakes
Yield 12 cupcakes
Ingredients
Cupcakes
3 ounces baking chocolate, finely chopped
1/3 cup cocoa powder
3/4 cup boiling water
3/4 cup all-purpose flour
3/4 cup granulated sugar
1/2 teaspoon salt
1/2 teaspoon baking soda
6 tablespoons vegetable oil
2 eggs
2 teaspoons white vinegar
1 teaspoon vanilla
Ganache Filling
2 ounces baking chocolate, finely chopped
1/4 cup heavy cream
1 tablespoon powdered sugar
Frosting
1 1/4 cups salted butter, softened
1 cup powdered sugar
3/4 cup cocoa powder
3/4 cup light corn syrup
1 teaspoon vanilla extract
1 1/4 cup chocolate chips, melted
Instructions
Cupcakes
Preheat the oven to 350 and line a standard size muffin pan.
In a bowl, add the chopped chocolate, cocoa powder, and boiling water together. Stir until all of the chocolate is melted. Place inside the refrigerator to cool. (Make the ganache filling at this point - instructions below)
In a separate bowl, combine the dry ingredients - flour, sugar, salt and baking soda. Set aside until ready to combine.
When the chocolate has cooled, whisk in the oil, eggs, vinegar and vanilla until well combined.
Add the dry ingredients to the chocolate mixture and mix until it's all smooth.
Divide the cupcake batter evenly in the muffin cups. You should use all of the batter.
Place a spoonful of ganache filling in the center of each cupcake.
Bake for 17-19 minutes. The cupcakes are finished when they are firm to the touch. Cool on a wire rack before frosting.
Ganache Filling
In a small bowl, add the chocolate, cream, and powdered sugar.
Microwave in 20 second intervals until the ingredients are warm.
Stir everything together until it is well combined and thick.
Place in the refrigerator until ready to add to the cupcake batter (see steps above).
Frosting
In a mixer, combine the softened butter, powdered sugar, and cocoa powder and mix for several minutes.
Add the corn syrup and vanilla and mix some more. Scrape the sides of the bowl as needed.
Finally, add the melted chocolate and finish mixing until smooth. Generously frost the cooled cupcakes.
Notes
You can use different kinds of chocolate - milk, semi-sweet, or bittersweet depending on how dark you like your chocolate. I personally like to use 60% cacao baking chocolate for the cupcakes and ganache. Then switch to milk chocolate chips for the frosting. I think it gives the cupcakes a perfect amount of both dark and milk chocolate so the dark chocolate doesn't become overwhelming. 
These are rich cupcakes, but those are my favorite kinds of desserts. A little bit goes a long way! It's not a bad idea to serve these with a glass of milk.
Even my self professed chocolate hating son loves these cupcakes, so even if you're a chocolate skeptic, you might like these more than you think!