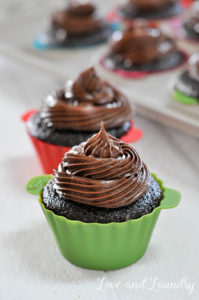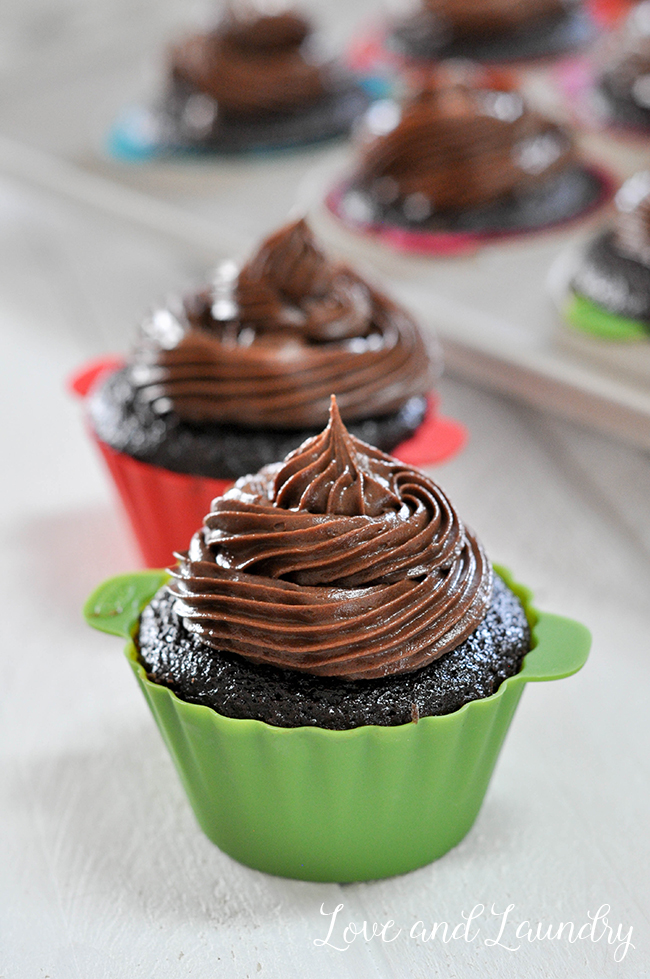 Chocolate Chocolate Chocolate Cupcakes
Yield 12 cupcakes
Ingredients
Cupcakes
3 ounces baking chocolate, finely chopped
1/3 cup cocoa powder
3/4 cup boiling water
3/4 cup all-purpose flour
3/4 cup granulated sugar
1/2 teaspoon salt
1/2 teaspoon baking soda
6 tablespoons vegetable oil
2 eggs
2 teaspoons white vinegar
1 teaspoon vanilla
Ganache Filling
2 ounces baking chocolate, finely chopped
1/4 cup heavy cream
1 tablespoon powdered sugar
Frosting
1 1/4 cups salted butter, softened
1 cup powdered sugar
3/4 cup cocoa powder
3/4 cup light corn syrup
1 teaspoon vanilla extract
1 1/4 cup chocolate chips, melted
Instructions
Cupcakes
Preheat the oven to 350 and line a standard size muffin pan.
In a bowl, add the chopped chocolate, cocoa powder, and boiling water together. Stir until all of the chocolate is melted. Place inside the refrigerator to cool. (Make the ganache filling at this point - instructions below)
In a separate bowl, combine the dry ingredients - flour, sugar, salt and baking soda. Set aside until ready to combine.
When the chocolate has cooled, whisk in the oil, eggs, vinegar and vanilla until well combined.
Add the dry ingredients to the chocolate mixture and mix until it's all smooth.
Divide the cupcake batter evenly in the muffin cups. You should use all of the batter.
Place a spoonful of ganache filling in the center of each cupcake.
Bake for 17-19 minutes. The cupcakes are finished when they are firm to the touch. Cool on a wire rack before frosting.
Ganache Filling
In a small bowl, add the chocolate, cream, and powdered sugar.
Microwave in 20 second intervals until the ingredients are warm.
Stir everything together until it is well combined and thick.
Place in the refrigerator until ready to add to the cupcake batter (see steps above).
Frosting
In a mixer, combine the softened butter, powdered sugar, and cocoa powder and mix for several minutes.
Add the corn syrup and vanilla and mix some more. Scrape the sides of the bowl as needed.
Finally, add the melted chocolate and finish mixing until smooth. Generously frost the cooled cupcakes.
Notes
You can use different kinds of chocolate - milk, semi-sweet, or bittersweet depending on how dark you like your chocolate. I personally like to use 60% cacao baking chocolate for the cupcakes and ganache. Then switch to milk chocolate chips for the frosting. I think it gives the cupcakes a perfect amount of both dark and milk chocolate so the dark chocolate doesn't become overwhelming. 
These are rich cupcakes, but those are my favorite kinds of desserts. A little bit goes a long way! It's not a bad idea to serve these with a glass of milk.
Even my self professed chocolate hating son loves these cupcakes, so even if you're a chocolate skeptic, you might like these more than you think!
Recipe by Love and Laundry at https://loveandlaundry.com/chocolate-chocolate-chocolate-cupcakes.html