Welcome to my very first Week at the Webster's post! I've been wanting to do this for a while and I finally decided it's time to take the plunge. This will be more of a real life series that I do and I plan to share something or lots of things from our week every Saturday.  I used to blog on a family blog that I started way back in 2008 and I've really missed blogging about the every day.  I likely won't share when I post our weekly recap on social media. Maybe I will…I'm still deciding. But I do want to share here on my blog. You can expect a lot of random, non-craft, non-food related things. Basically a journaling/life update that will include what's been happening at our house for the week. I hope you enjoy it!
This week was wonderful! Dave and I celebrated our 17 year wedding anniversary. SEVENTEEN YEARS! That is a ONE followed by a SEVEN.  I can't believe it's been that long! How can we even be that old?!? I am so very blessed to be married to this wonderful man! He is so good to me. I used to think it was corny when I heard people say they were more in love than the day they got married. Yep.  I get it now. I love Dave so much!!
We have a tradition of going out of town for a couple of days to celebrate our anniversary. With the exception of only two years, we have stayed at the Anniversary Inn every single anniversary. We started by staying at the Salt Lake location one of the nights on our honeymoon and we've continued the tradition pretty strong ever since!  The Anniversary Inn is a theme suite hotel (really more like a bed and breakfast). We each take turns planning our anniversary and this year was Dave's turn. He spoiled me and actually booked 2 nights this time so we got to stay in two different rooms for the first time! It was nice to have so much time away from real life. Our anniversary is really my favorite! I look forward to it all year long – even more than Christmas if you can believe it!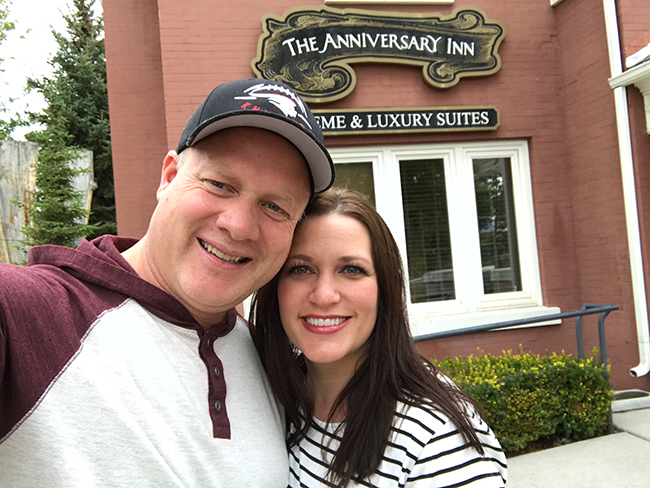 The last few years we've also added the tradition of the anniversary selfie! I wish we would have started that when we first got married. Wouldn't that have been cool to do a collage of all of our different years? Too bad selfies weren't a thing back when we got married!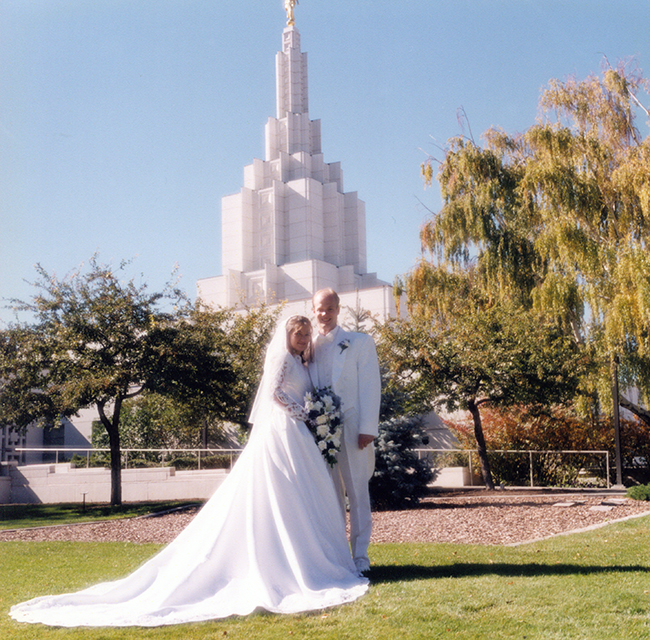 Aww! Look at us on our wedding day! Seventeen years younger and seventeen pounds lighter (ahem…).
I've been working for the last year and a half to finally get all of our photos into photo books. It's been a pretty daunting task! I connected my computer to Google Photos to have all of our photos finally get backed up and there were literally over 40,000 photos. Being married 17 years also means that I have that many years to put into family books. Well, not the entire 17 years. I have 2015 and 2016 finished already. This week we got our 2013 Europe Trip photo book in the mail, which checks another album off of my to-do list! I'm also very close to finishing 2014 and 2005 (I know, kind of a random order).  It feels SO good to have them put together and documented. My biggest fear in life is losing our memories!
Now that our Europe Trip Book is finished, I'm trying to duplicate the pages and make another book for my mom for a Christmas gift since we went on the trip together (don't worry, she already knows. I need her to help me with some of it, so in order to give it as a gift, I had to spoil the surprise).
To make all of my albums,  I've created ALL of the pages on my iPad using the Project Life app. I've been contemplating doing a blog post all about how I do it. I've done almost 700 album pages in the last year and a half and it really hasn't been that much work. Trust me, I definitely don't slave hours over this. I honestly wish I worked on it more because I would have so many more pages done. But I find myself getting busy with life and putting this project away for weeks at a time. And still I've been able to accomplish 700 pages! If I worked on a blog post about tips and tricks and how-tos about putting these albums together, is that something you would read? I find myself wanting to share how to make them because I know how so many people feel overwhelmed.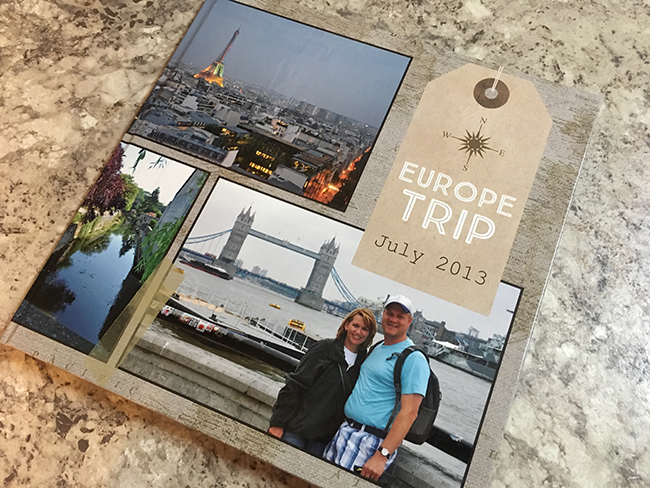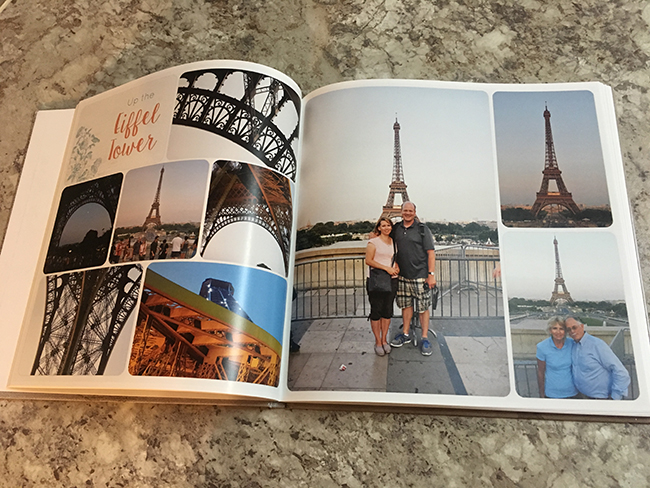 This is a 12×12 album if that gives you some perspective. Seeing this album all put together really makes me want to go back to Europe! I think it'll be several years before we're able, but a girl can dream, right?!? In the meantime, I'm just going to binge on some good British TV to fill that void in my life!
We got our first snowfall this week and sadly I missed pictures because we were gone celebrating our anniversary! So I guess technically it wasn't MY first snowfall of the season and it did melt within a few hours. But snow does mean that I have to finally take all of the flowers out of the pots. I haven't watered them for a good month, mostly out of laziness, so they are already quite dead. But cleaning them up really means that winter is on it's way.
Logan had his Fall Carnival at his school this week. It is SO weird to me to think that he is our last elementary kid! Bria and Max went to the carnival with us and Max even played the games. He ROCKED the dart throwing and popped balloons with all 3 of his darts. Bria is so awesome for tagging along even though she really didn't want to participate. I guess the games were just a little bit too little kid. It's hard to believe that we only have a couple more years of going to these things which makes me pretty sad. Kids grow up WAY too fast!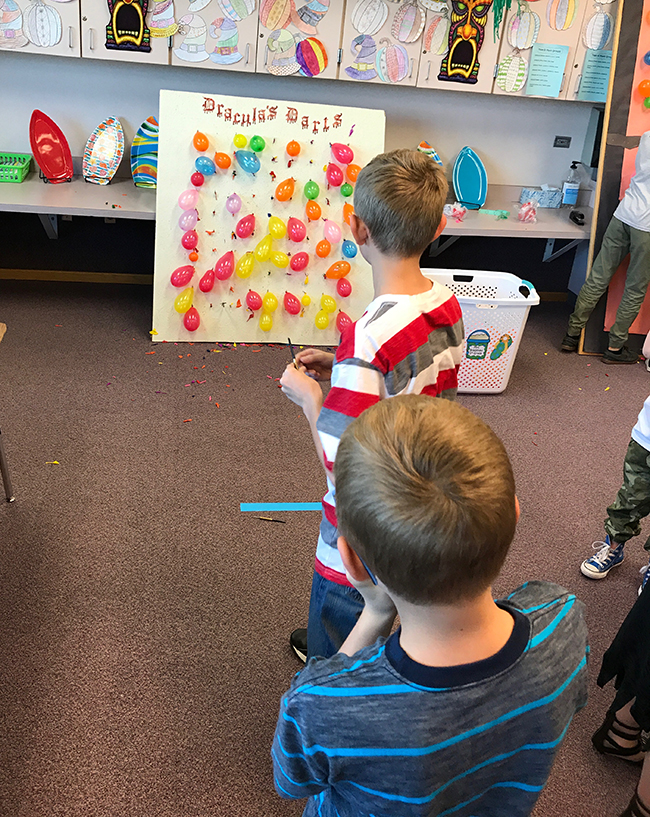 We're going to have a pretty low key weekend this weekend, which is nice after our weekend getaway last weekend. We are definitely planning to watch the Packers stomp the Cowboys! And I went to the store today to buy the ingredients to make Dave's favorite Slow Cooker Calico Beans to eat while we watch. Football is just better with good food.