This post is sponsored by RawSpiceBar. All of the opinions and content belong to me. 
There's a GIVEAWAY at the bottom of the post, so be sure to enter!!!
Roasted vegetables are seriously one of my favorite, favorite side dishes! They are delicious. They are easy. And the best part is, they can be roasting while I get the rest of my dinner made! Butternut squash has always been one of my favorite. When I was a little girl, I just thought it was all of squash – I had no idea there were many varieties available. I would always tell people that squash was my favorite – I really loved it so much!!
This seemingly exotic variation on traditional roasted butternut squash isn't as complicated as you might think! And I'll tell you how….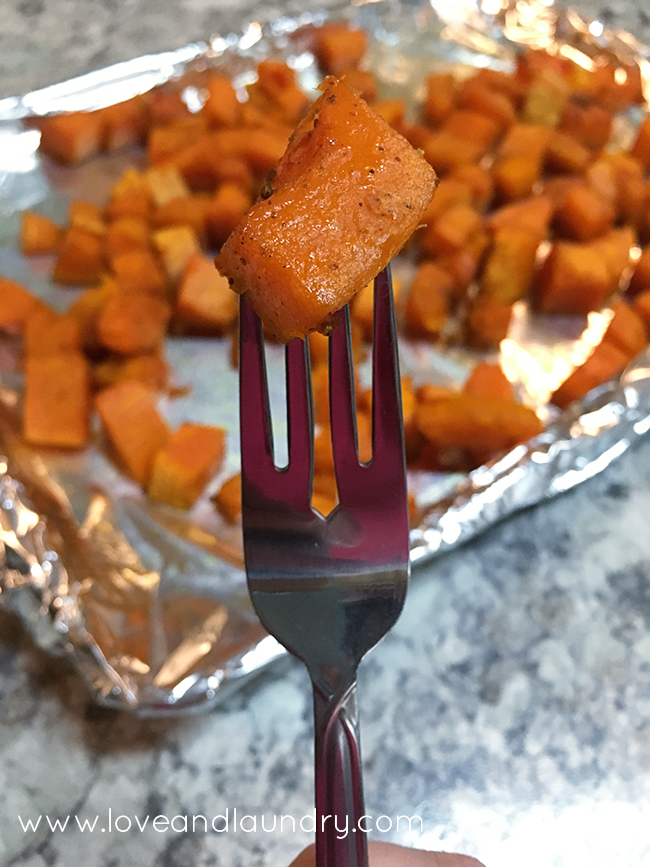 Just grab yourself a butternut squash. Peel and chop it.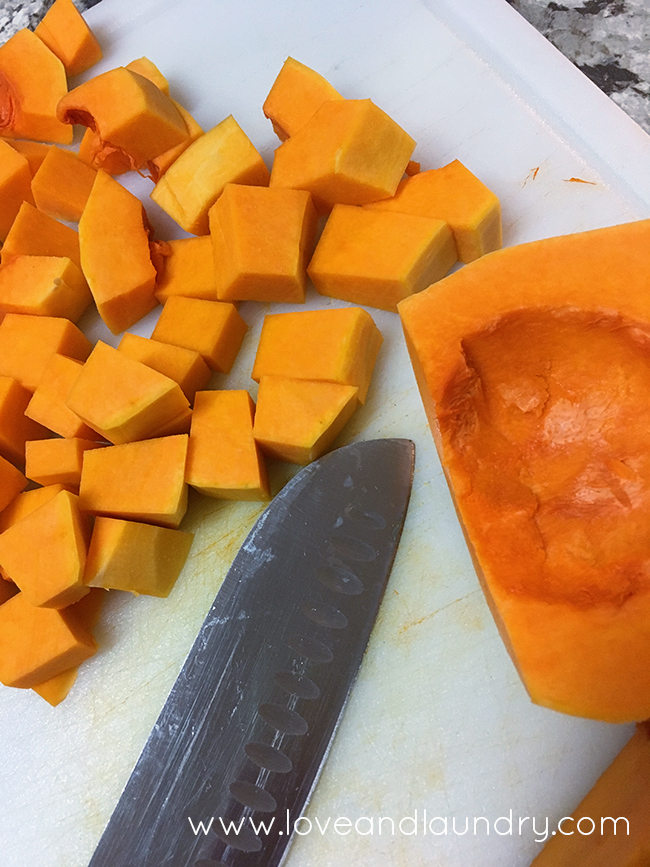 Then, throw it into a gallon size bag with about 1 tbsp of oil (I like to use Olive Oil, but really any kind of oil works – just choose your favorite!). Then add the spices! I used the Indo-French Vadouvan from RawSpiceBar's November's Pondicherry Kit.  Have you ever tried the spice kits from RawSpiceBar? If you haven't, you are definitely missing out! One of my favorite, favorite things about RawSpiceBar is that it gives me the opportunity to learn about new culinary flavors from all around the world! Before November, I had never even heard of Vadouvan. And it turns out, I have had something similar before, but I didn't even know it! It has kind of a mildly spicy curry flavor. Curry is one of my top 10 favorite foods, so of course I ended up loving the French- Indo Vadouvan spices!
Once you get the oil and spices in the bag, shake it around to coat everything evenly. Pour your squash on a baking sheet. I always cheat and make clean-up easier by putting a sheet a tin foil around the pan before I bake. Look how much spice is covering those vegetables! All from a little spice packet! I'm telling you….RawSpiceBar spices really pack a punch. They are very fresh and full of flavor. More than any spice I've ever tried…and I have tried a lot of different spices!
Anyway…back to the recipe….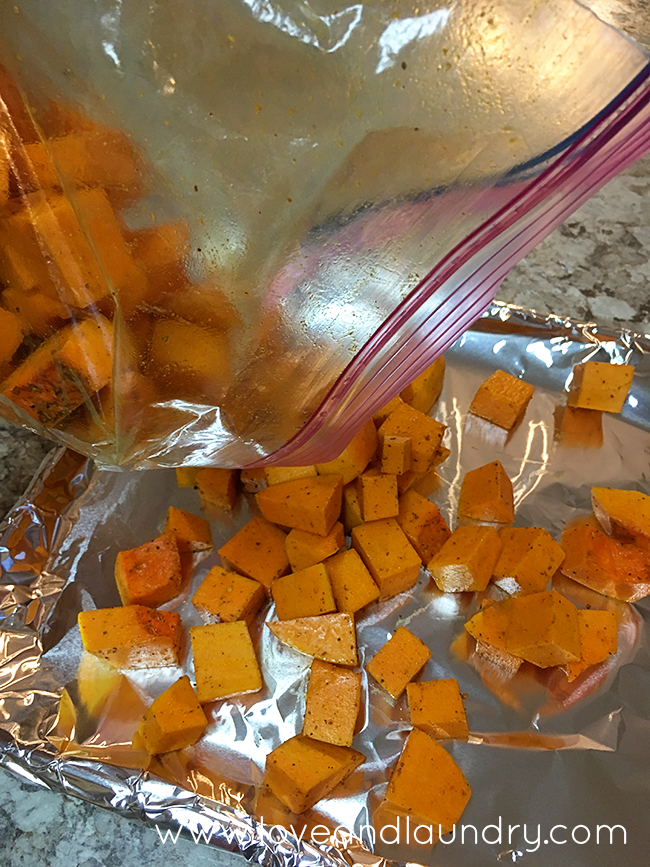 Pour the butternut squash from the bag onto the baking sheet. You can sprinkle them with salt before you bake them if you want. Depending on the vegetable I'm roasting, I normally put at least a little bit of salt on it. Bake it at 400 for between 30-40 minutes. Roasting vegetables is an awesome side dish! I like to get them roasting first then start preparing the rest of my dinner.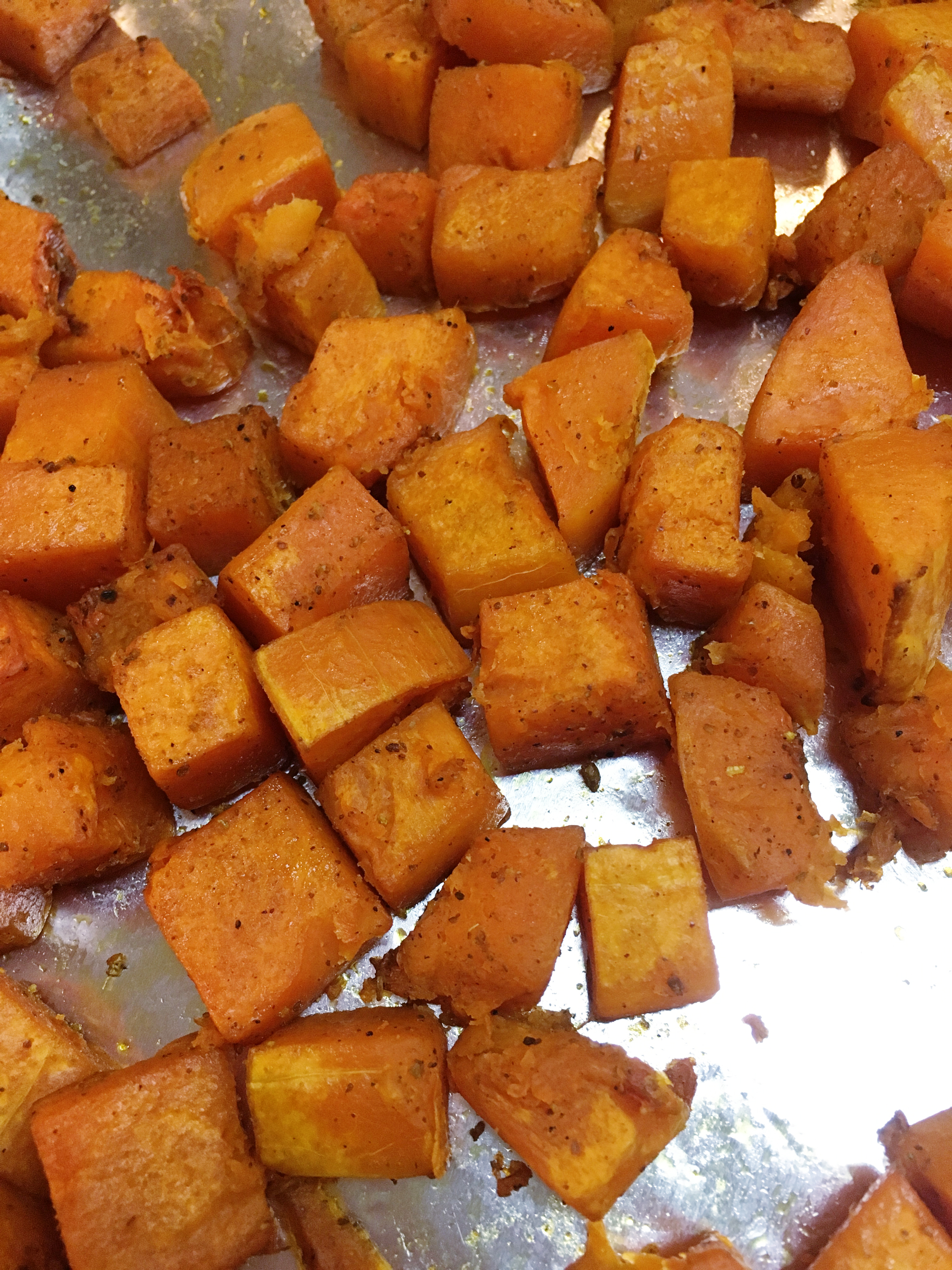 See how delicious they turned out! So yummy!!
Let me tell you a little bit more about RawSpiceBar. They are awesome!
Christmas is just around the corner and I couldn't be more excited about it!! I've been super busy working on gifts. I have a thing with handmade gifts. Every year I tell myself that I'm not going to do them, and then I just cave! I love giving something personalized. I do a lot of shopping at box stores as much as the next person, but I really pride myself on giving gifts that the people I love will also love. I spend tons of time thinking of just the perfect thing. I'm always on the lookout for a gift that is different and personal. If you know someone who loves spending time in the kitchen, this is the perfect gift for them!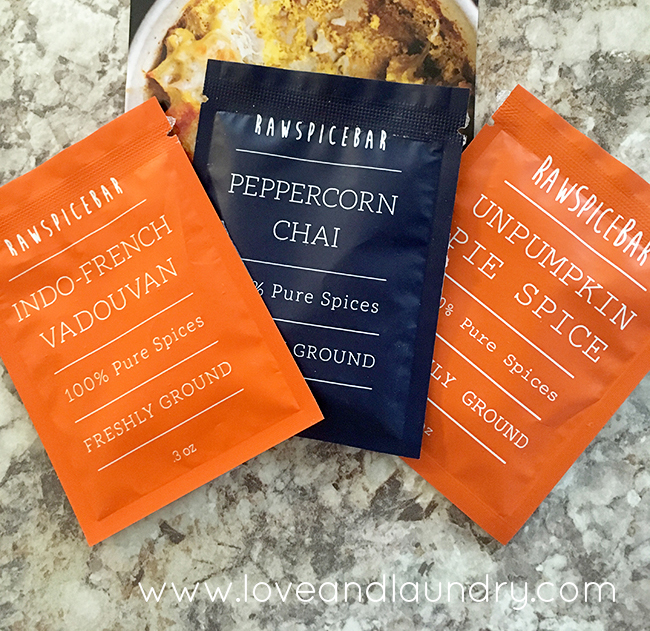 About a year ago, RawSpiceBar asked me to do a post on their company. Of course I would never say no to something food related. And since then, I've been getting a subscription monthly to their spices. But it's not just fresh and exotic spices they send in the mail, it's really a culinary world tour! Each month has a theme and a location and the spice packs are representative of that. They've come to me from all over the world! India, South America, Europe…you name it! It's a fun way to expand our culinary horizons right in our own kitchen! You don't even have to feel intimidated about trying to cook exotic food, either. Each kit comes int he mail with a brief explanation of the culinary highlights of the region.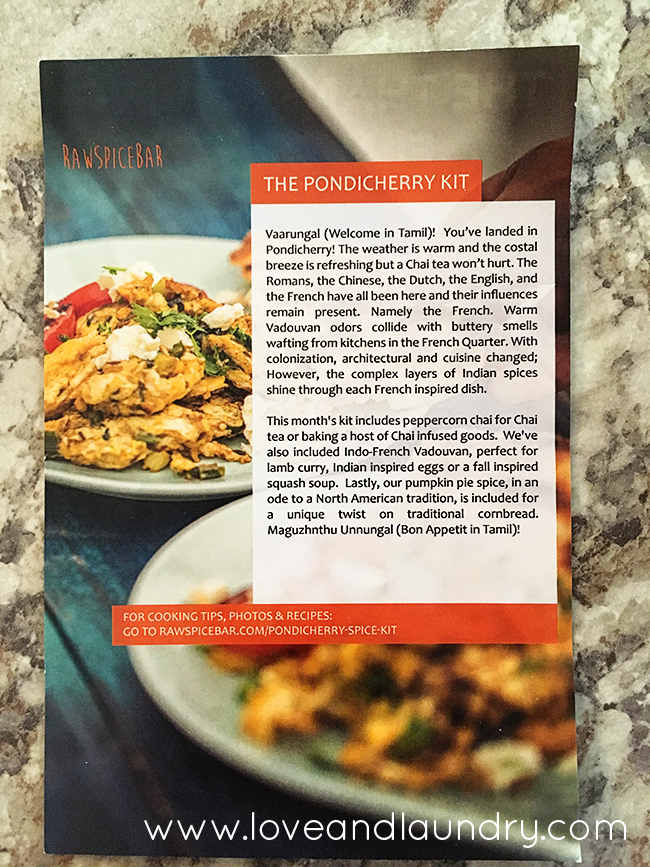 The kit also comes with recipe cards (actually 2 different recipes to choose from per spice!). And the spices are incredibly fresh. I've used a lot (and I mean A LOT!) of different spices over the years and these are premium quality. You can tell right when you open a packet how fresh they are from the wonderful aroma!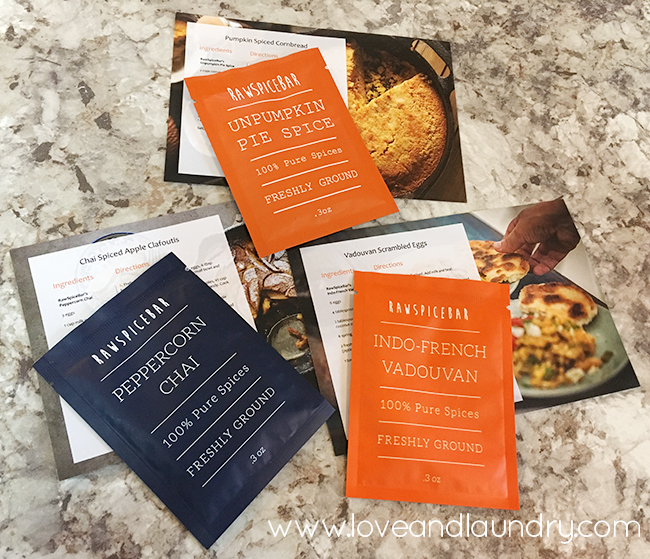 The kit's also aren't as expensive as you would guess for something this fresh and exotic.  If you order a 12 month subscription, they actually only end up being $6 per month! And if subscriptions aren't your thing, you can order only one month at a time.
This really does make an amazing gift for someone! I highly recommend it!