I love cheesecake. Like love it, love it. I've been contemplating joining the Crazy Cooking Challenge for months and when I saw that this month's challenge was cheesecake, I knew I was on board. And I thought that this Pumpkin Cheesecake recipe was the perfect thing to make!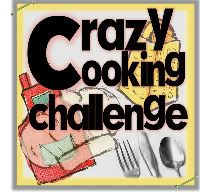 A few years ago, my husband gave me cookbook for Christmas. It's chalk full of yummy recipes!
Including this scrumptious copycat recipe for The Cheesecake Factory's Pumpkin Cheesecake.
I've never made it before and I knew that I was ready to give it a try! Here's what you need:
The first step is to make the crust. Preheat the oven to 350 degrees.
Take 1 1/2 cups of graham cracker crumbs, 5 tablespoons of melted butter, and 1 tablespoon of sugar and mix them together. You just want to make crumbs, not paste.
Then dump all of the crumbs into a spring form pan. (If you don't have one, a pie pan will work – this recipe will make 2 cheesecakes that way).
Press the crumbs down on the bottom and a few inches up the sides.
Bake the crust for about 5 minutes in the oven, then set aside.
Now for the filling. Add 3 8-ounce packages of cream cheese, 1 cup of sugar and 1 teaspoon of vanilla to a mixer. Mix until everything is really smooth.
Add 1 cup of canned pumpkin, 3 eggs, 1/2 teaspoon of cinnamon, 1/4 teaspoon of nutmeg, and 1/4 teaspoon of allspice. Mix really well.
When everything looks really smooth and there are no cream cheese lumps, grab the crust and pour everything in.
Bake for 60-70 minutes. After it's done baking, allow the cheesecake to cool until it's at room temperature. The move it to the fridge to cool even more before removing the sides of the spring form pan.
This cheesecake is so yummy! I think it may be replacing Pumpkin Pie around our Thanksgiving table.
The Cheesecake Factory Pumpkin Cheesecake
recipe from Top Secret Restaurant Recipes 1
1 1/2 cups graham cracker crumbs
5 tablespoons butter, melted
1 cup plus 1 tablespoon sugar
3 8-ounce packages of cream cheese, softened
1 teaspoon vanilla
1 cup canned pumpkin
3 eggs
1/2 teaspoon cinnamon
1/4 teaspoon nutmeg
1/4 teaspoon allspice
1. Preheat oven to 350 degree F
2. Make the crust by combining the graham cracker crumbs with the melted butter and 1 tablespoon of sugar. Stir together, but make sure it stays crumbly (not pasty).
3. Press the crumbs onto the bottom about about 2/3 of the sides of a springform pan. You don't want the crust to go all the way up the sides of the cheesecake. Bake the crust for 5 minutes and set aside
4. In a large bowl, combine the cream cheese, 1 cup of sugar, and vanilla. Mix until smooth
5. Add the pumpkin, eggs, cinnamon, nutmeg and all spice. Mix until smooth and creamy.
6. Pour the filling into the pan. Bake for 60 to 70 minutes. Remove from the oven and allow the cheesecake to cool.
7. After the cheesecake has reached room temperature, chill in the refrigerator. When the cheesecake has chilled, remove the pan sides and cut into 8 equal pieces. Serve with whipped cream.
There's more to this post! Click to keep reading.