I seriously feel like laundry is the bane of my existence! Who's with me?!? Sometimes I wonder why in the world I don't have it all figured out by now. I mean, I'm going on 20ish years of doing laundry. I swear with each passing year, it gets harder and harder to keep on top of it!  And just when I think I have it, I have days like today when I feel like the pile keeps growing and growing. It's pretty bad when your six year old says that he absolutely cannot take another shower because there are no towels left in his bathroom. As I was doing laundry today, I realized that I was out of my favorite homemade laundry detergent. So, since I had to make a batch anyway, I thought it would be fun to share it with you!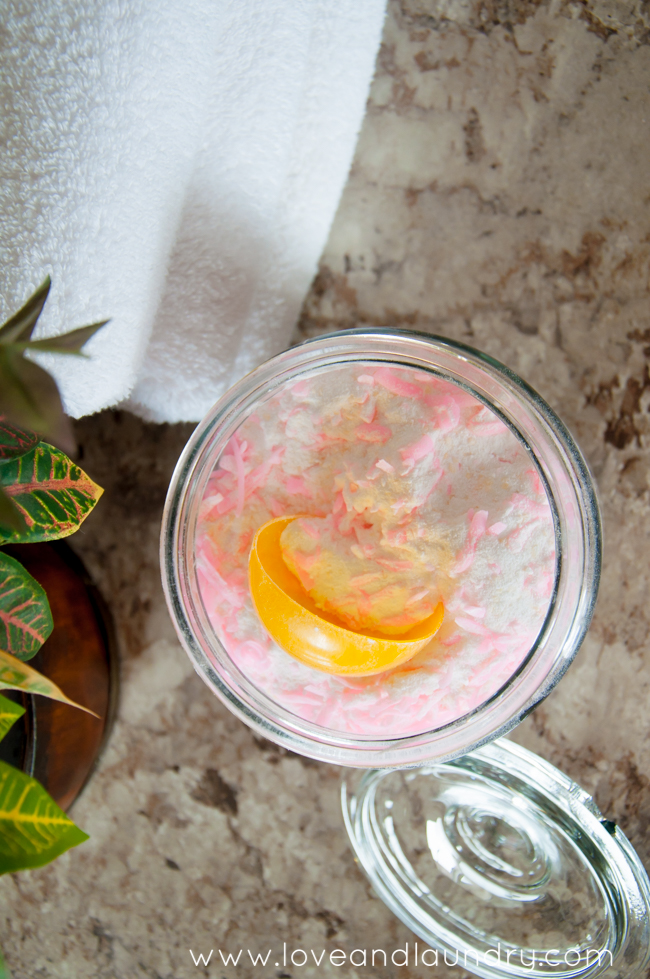 I know there are about a gazillion recipes for laundry detergent on Pinterest. And I'm not going to lie, I was super skeptical for a long time! I am kind of a detergent snob and I only use stuff that actually cleans my clothes.  When we were first married, we bought one of those huge yellow tubs of cheap detergent because we were poor and just starting out. I hated it. HATED! I ended up throwing the whole thing out and swearing it off for good. There are just some things that are worth spending a higher price for, and in my opinion, laundry detergent is one of them.
It wasn't until I went to a ladies activity at my church a couple of years ago that I started to change my opinion about homemade detergent. The activity was all about cleaning tips and one of the ladies shared her recipe for homemade laundry detergent. She said she had tried all the recipes across the internet and this one worked the best. Plus, she said she had an HE washer and I always wondered how homemade detergent would affect my HE washer.  In order for me to be sold, I decided that it not only had to cost less, but work just as well, if not better, than the more expensive detergent I was used to buying. In order for me to jump ship to the homemade bandwagon, the detergent had to smell good (and leave my clothes smelling good), it had to get stains out, and I had to feel like it was actually cleaning my clothes!
After her recommendation, I went ahead and gave her recipe a try. But I soon found that I needed to tweak things a little better. For starters, she said that she only used one tablespoon of detergent per load. I tried that at first, but that is seriously not enough for my family. I mean, I have kids – my boys especially – that are crazy hard on clothes. Here's some evidence:
This is Max and Logan last August wearing brand new school clothes. They decided that since I didn't plant a garden, they would build a mud volcano in it instead. They were crazy muddy so I made them hose each other off, which, in hindsight I don't think it taught them a very good lesson because they couldn't keep themselves from laughing the whole time. But seriously, brand. new. school. clothes. UGH!
As much as a tiny bit of laundry detergent might work for some people, that just wasn't cutting it at our house. The more I started looking closely at the recipe, I decided that the reason WHY that is the case is that most of the ingredients that go into the recipe are laundry boosters, and not actually soap at all. As I was washing clothes one day, I was thinking about how each ingredient and realized that if  I were to use each of these boosters separately, I would use a full amount of detergent and add a full amount of each booster to the load as well. So, how could only a tiny bit actually clean my clothes? The first thing that I tweaked in the recipe was the amount I was using. I'll explain in a bit how I measure the amount I use. Just adding more alone made a HUGE difference in how well the detergent worked.
Okay…so on to the recipe. I'll explain a few of the other tweaks as I go.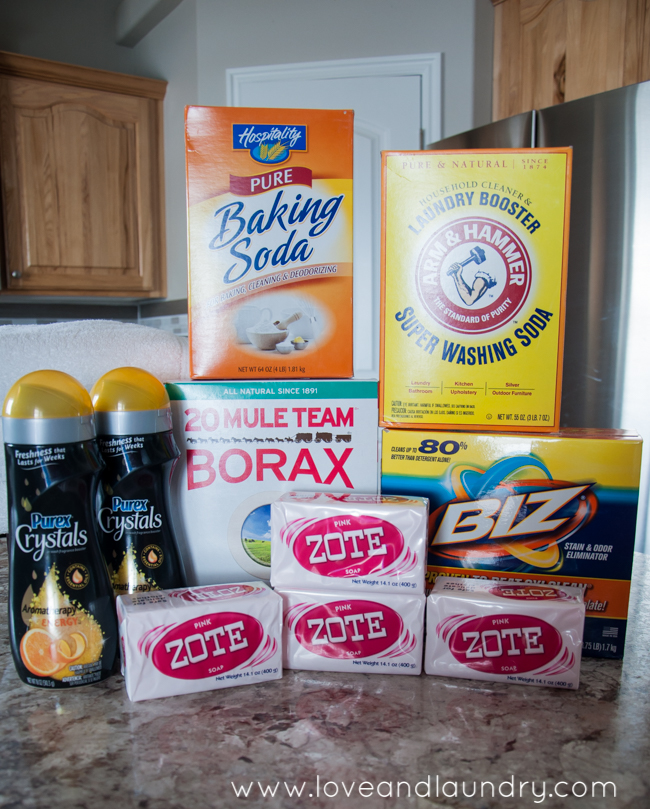 Homemade Laundry Detergent
4 lbs Baking Soda (If you can't find a big box in the detergent aisle, it's totally fine to use four 1-lb boxes from the baking aisle)
1  box of Arm & Hammer Super Washing Soda (I think it only comes in one size, so that should make it easier)
1 box Borax (also, I've only ever seen one size)
1 box of BIZ (more on that in a bit)
4 bars of Zote Soap OR Fels-Naptha (or even a combination of both)
2 small bottles or one large bottle of Purex Crystals
For all of the ingredients, it seriously costs me less that $20 and the detergent last forever. I do 6-7 loads of laundry per week and it still lasts me almost 6 months. It's a fraction of what I used to spend on detergent and I really do think the quality is pretty great!
Let me talk about the BIZ for a second. You can totally use OxyClean if you are a big believer in that. But I will tell you that I have seen serious laundry miracles worked with BIZ that I haven't seen with OxyClean. (This isn't sponsored or anything, just really what I love.) My mother-in-law introduced me 12 years ago right before Bria was born and I haven't looked back since. And it's almost half the price of OxyClean. You can find it in the detergent aisle as well.
Alright…let's get making this detergent! I have a huge bucket that I keep tucked away in my laundry room to hold all of the detergent. When I'm ready to make a batch, I just mix it all right in the bucket.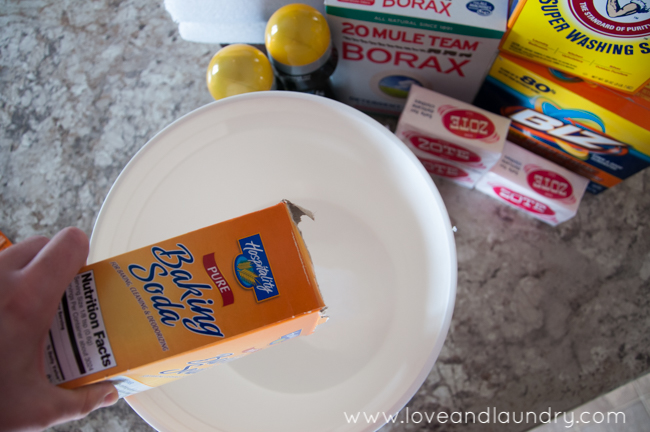 I always start with the powdered ingredients. I've also found that I get a more consistent detergent if I mix after each ingredient. And the easiest way to do that is to just dig right in!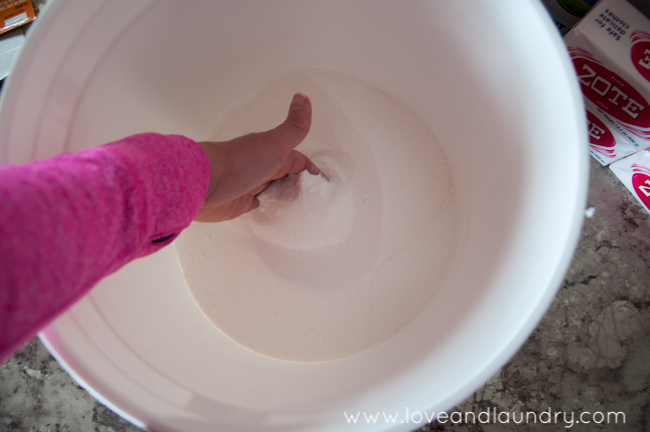 You can wear gloves if you want. Or use a spoon. Or something to stir it with. But seriously, it's not that big of a deal to mix it all by hand.
The thing I love about adding in the Purex Crystals is that I can really start to see how well everything is evenly mixed.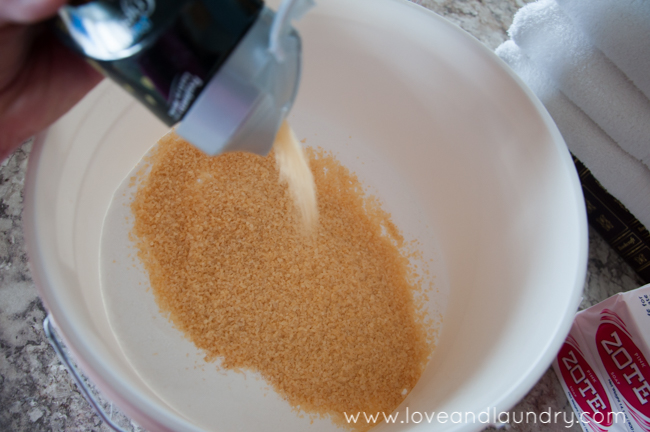 Here's a quick tip. Be sure to save the little plastic lid that comes on that. THAT is how I measure the detergent. I roughly fill the cap up and then dump it in with my load.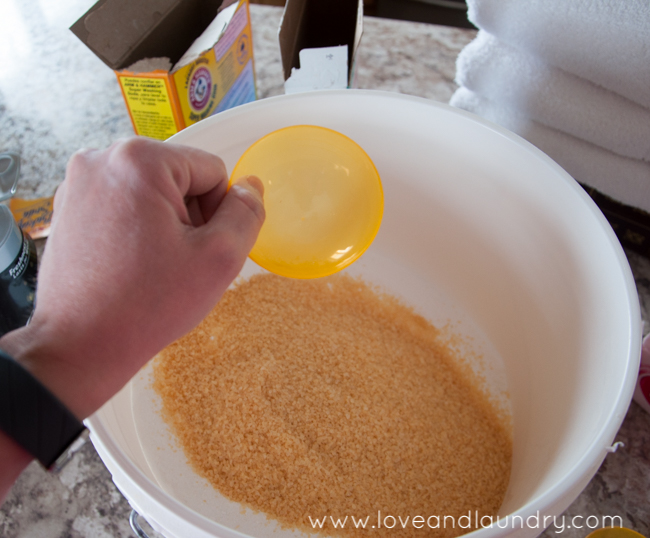 The last thing I add is the Zote Soap. You don't have to use Zote, you can use Fels-Naptha if you want. They are both the same price and I've used both with good results. You could even mix the two together! Zote is really soft and grates easily. Fels-Naptha is really hard and grates more finely, so I think that there is benefit either way. I will tell you, though, if I use Zote, I put the detergent directly inside of my HE washer drum instead of putting it in the dispenser. My washer has a little filter that the detergent runs through and I noticed that the Zote grates were getting caught. But honestly, I really believe that the detergent works better when I put in directly in the washer drum. I've been doing it for over a year and I haven't had any problems with my washer whatsoever!
Before you add the soap, you have to grate it. I just use my cheese grater.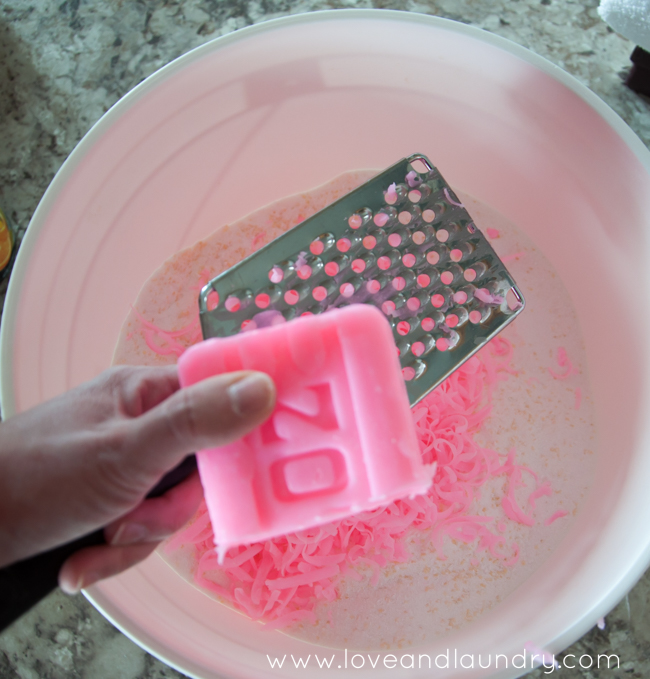 If you are super lazy like I sometimes get, you can buy pre-grated zote soap. It costs twice as much ($2 instead of $1), but it might be worth it to you. Each box you buy is equivalent to 1 bar of soap. But it really is pretty easy to grate. I timed myself just to see and it only took 2 minutes per bar. Plus it's good exercise for your arms. ;) I generally mix in each bar of soap separately – it really is easier to mix when you don't have a huge pile of grated soap sitting on top.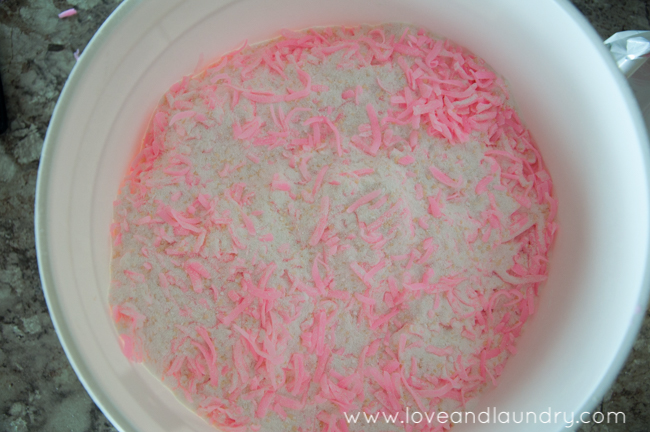 Some recipes around will tell you to use one or two bars of soap in a recipe this size. But this is the ingredient that actually cleans your clothes and I really does make a difference if you use more. And it still really works out to stretch quite a ways if you think that you're using 4 bars of soap to clean hundreds and hundreds of pieces of clothing over a 6 month period of time. If you think about how much more soap you would use if you actually hand washed each piece of clothing with a bar. It certainly won't last through hundreds and hundreds of clothes like it does in this detergent recipe. In my opinion, it's still a really great deal!
Once everything is all mixed, I put some of it in a pretty glass cookie jar and keep that on top of my washer. I put the bucket away in a cupboard and just refill my pretty jar as I need to.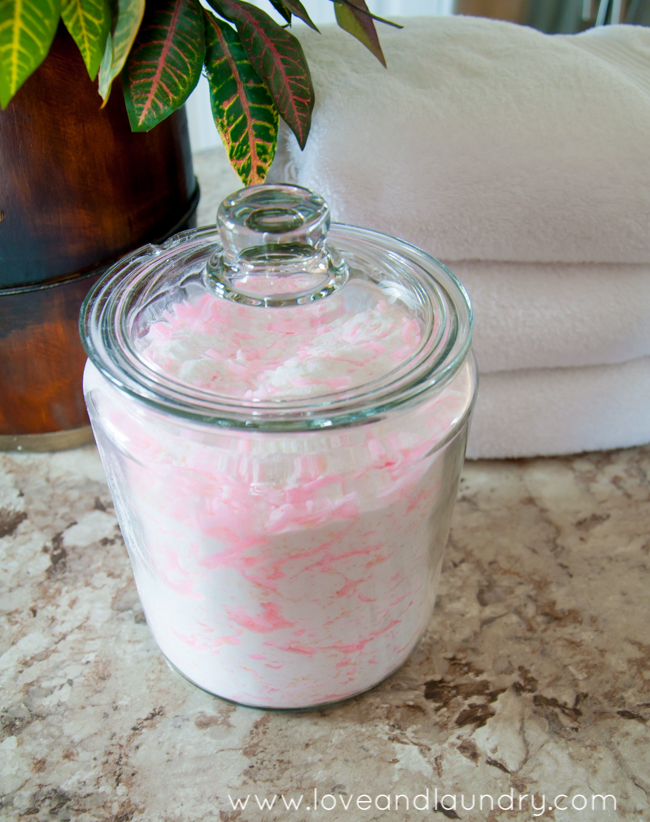 And that's it! I really hope you love this detergent recipe as much as I do! It really has been such a laundry game changer for me.  Feel free to ask any questions in the comments and I'll answer them for you.