I'm really excited to show you our first vlog post! I worked all the live long day yesterday getting it edited. I'm really new at editing, but I've thankfully picked up a few tricks from Dave over the years because he is amazing at it. I'm really hoping that as I get more practice, I'll get faster. Anyway, I hope you like it! It was really fun to make and I'm excited to make more in the future!
If you don't want to watch, that's okay, too! I've also uploaded gobs of photos for you to see our kid's Halloween costumes! Last year we all went as a Harry Potter family, but this year all of the kids wanted to be something completely different. It was fun trying to put together their costumes!
Stitch
Logan is obsessed with Lilo and Stitch – mainly Stitch. He fully intends to live in space when he grows up. I love that he's been in this Stitch loving phase for so long! It's been going strong for a year and a half and I hope he never out grows it. I love this costume because it doubles as pajamas. I bought it big on purpose. I hope he gets lots of use out of it!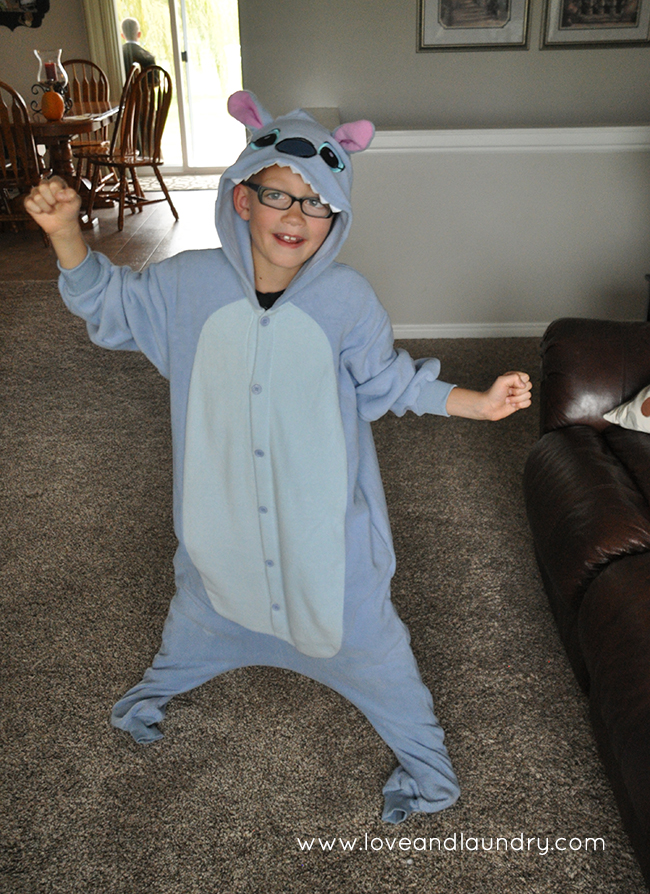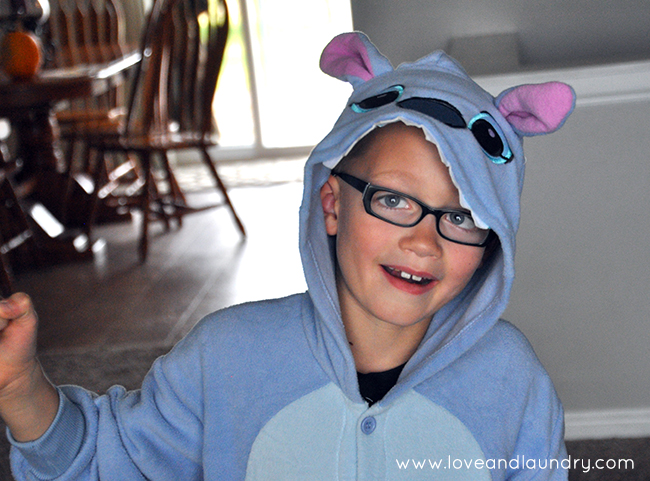 Vince Lombardi
For those of you who don't know, Vince Lombardi is the football coach that the Lombardi trophy is named after. Yep! The trophy they hand to the winning team every year at the Super Bowl. He's widely considered to be the greatest coach in NFL history.  AND, he was actually the coach of the Green Bay Packers from 1959-1967. It was his first head coaching job. He managed to pulled the team from oblivion into becoming the best team in the NFL Want to know who won the first 3 Super Bowls? Yep, the Green Bay Packers under their new coach Vince Lombardi. We're pretty big Green Bay Packers fans at our house. And when I say pretty big, I mean that we took our family road trip TO Green Bay last summer so that we could finally see Lambeau Field in person. It's incredible! Maybe I need to do a blog post just about that? Hmmmm…. Anyway…
After visiting Green Bay, it wasn't a surprise to me that Max wanted to dress up as something Green Bay this year. I was really excited when he chose Vince Lombardi. And I thought his costume would be easy to put together – all we needed was a trench coat, some horn rimmed glasses and a black fedora. Except have you ever tried shopping for a trench coat? Ummmm….they aren't cheap! Like at all. The lower end trench coats run about $100 and they go exponentially up from there. But after lots and lots of Google searching, I ran across a company that had a used Italian Military trench coat in a men's size medium for a steal – $15!! Even with shipping, we were only at $22. I couldn't even believe it! And it's really nice! Hopefully he'll be able to grow into it as he gets older and actually use it as a trench coat!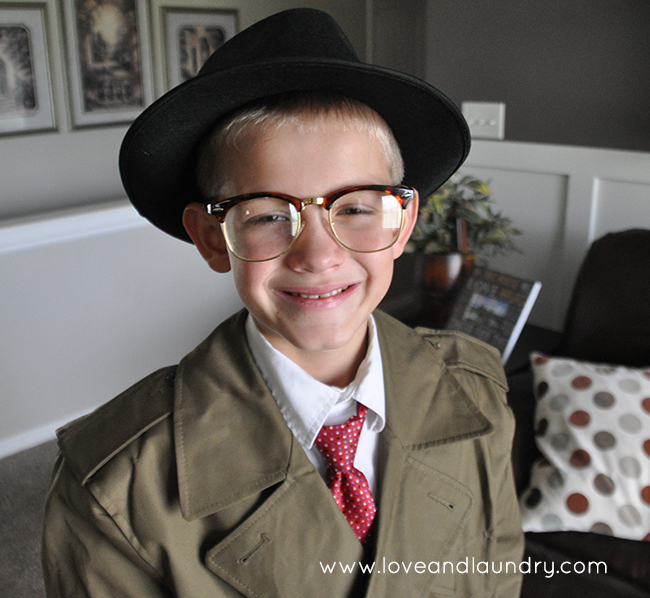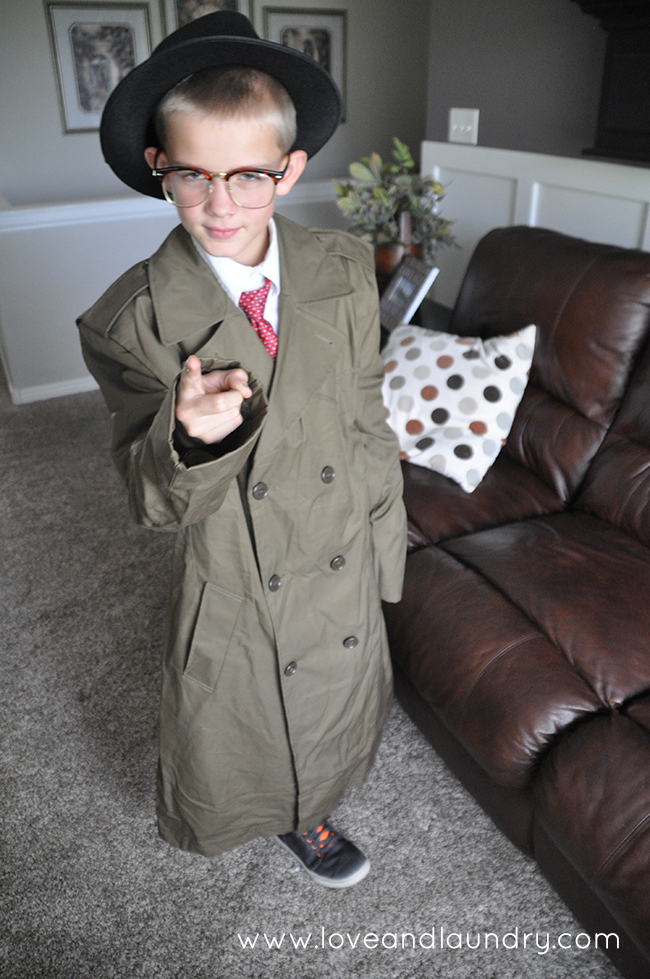 Luna Lovegood
My kids are Harry Potter obsessed and Bria is the queen of the fan club around here. We've been reading the books together over the last couple of years. She finally got tired of waiting for us and started reading ahead. The boys and I are reading The Order of the Pheonix right now – we're almost done.  I'm hoping to finish by Halloween and get to watch it together as a family on Halloween night. We'll see….it seems to be taking us forever to finish up!
Anyway, Bria has dubbed Luna Lovegood her favorite literary character of all time. And she seriously loves her from the books only because she still hasn't seen a Harry Potter movie that includes Luna Lovegood yet. We've only watched through the 4th movie as a family and I'm making them wait until we can finish reading the books before they can see the rest.
I love her take on Luna Lovegood with her costume this year! It's been really fun!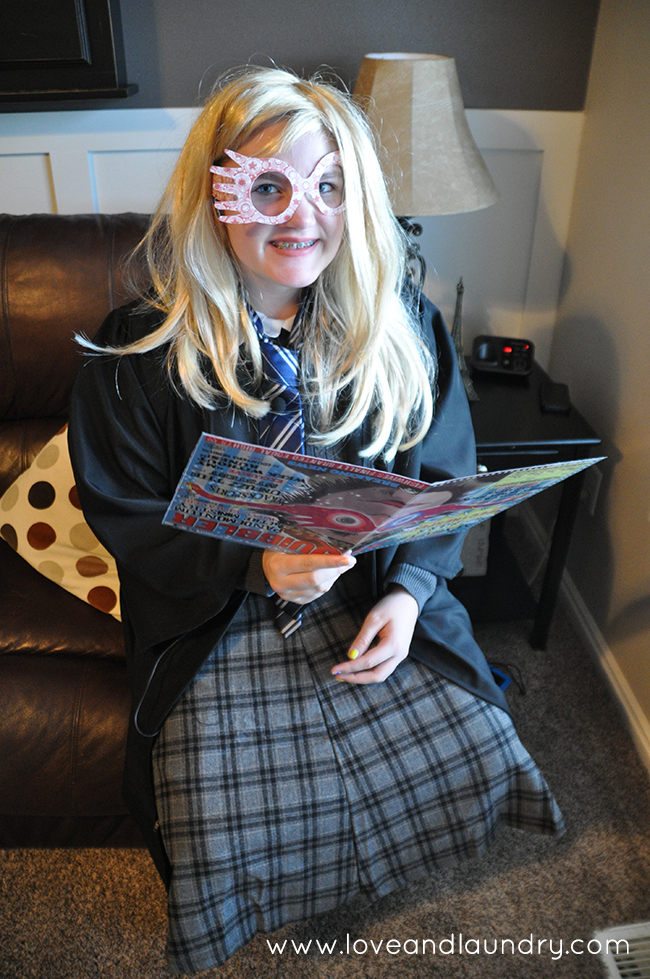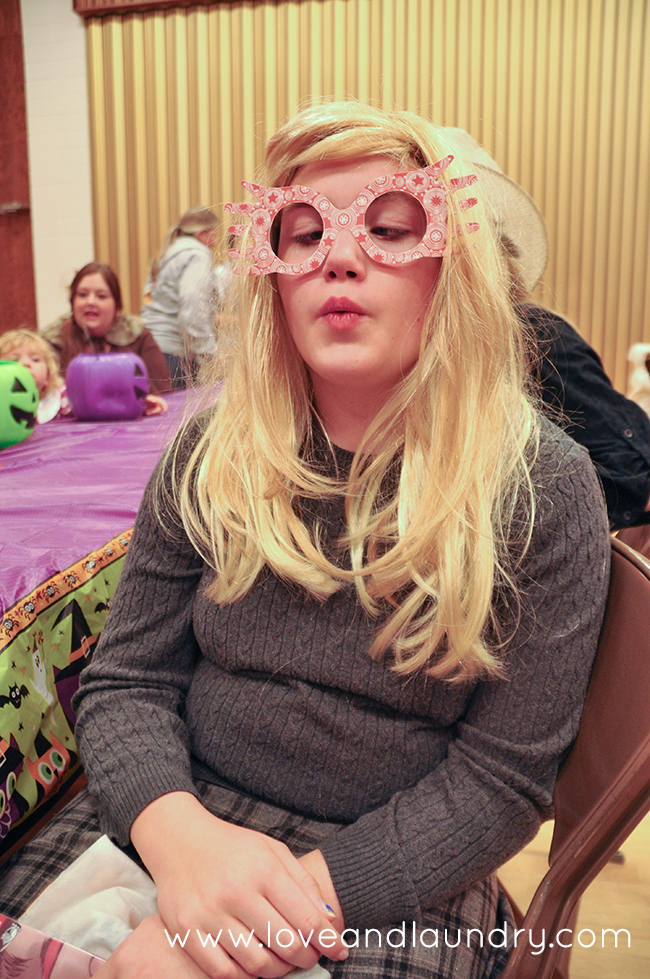 And here's one last picture of our whole family! Dave and I are kind of Halloween scrooges. We only dress up for he Trunk or Treat at the church and even then it's mostly because of our present callings. Dave dressed in some Green Bay gear to match Max's costume. And I dressed up with our Primary Presidency – we all had different color wigs  and tights. Its was cute!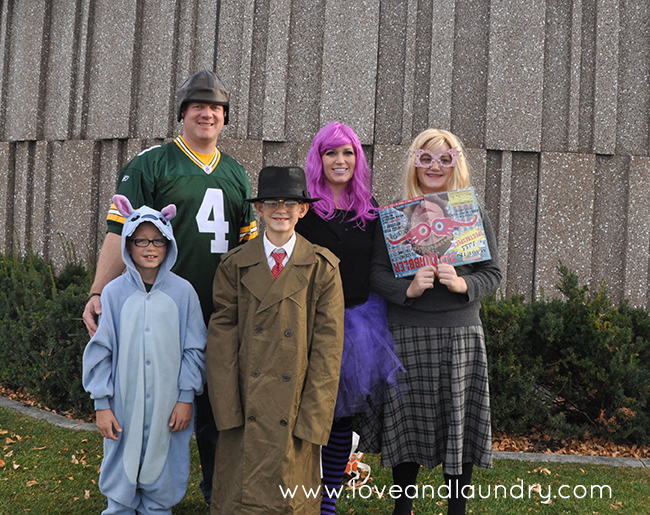 I hope you all have a really great Halloween!