A couple of weeks ago, I was nominated for the Liebster Award by Dishing with Leslie.
I love her blog! She is an amazing cook! I met Leslie through the Grow, Swap, Share blog swap a while ago. We're swap partners! You'll get to know Leslie a little better very soon. She'll be posting here tomorrow for the blog swap– I'm really excited! But in the meantime, you have to check out her Guacamole and her Strawberry Shortcake on a Stick – YUM!
I was really excited to get the nomination, and I wanted to take my time choosing the blogs I wanted to pass the award on to. Well, in the meantime, I got nominated again by another of my favorite blogs! The Thriftiness Miss.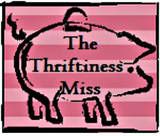 Jessica at The Thriftiness Miss is so awesome! She is super talented and so sweet. I'm absolutely in love with her Raspberry Cream Cheese Danishes, and her Patriotic Toilet Paper Roll Garland is awesome (and perfect for this time of year!).
I was so incredibly honored that two of my favorite blogs nominated me! Thank you, both!!
So…now it's my turn to pass on the torch, so to speak.
If you don't know what the Liebster Award is, I'll try to explain. It's an award given to blogs that have less than 200 followers. It's kind of like a virtual "high five" letting these bloggers know that they are noticed and someone thinks they are awesome! I think the reason I was the most excited about getting this award is so that I could take the time to tell someone else why I love their blog!
So if you are presented the award, please follow these rules:
1. Post about your win on your blog
2. Link back to the blogger who presented you with the award: Love and Laundry (make sure to follow their blog)
3. Copy and paste the award button to your blog
4. Present The Liebster Award to 5 blogs that have fewer than 200 followers that you think deserve to be recognized
5. Let them know by leaving them a comment on their blog
Here are the five blogs that I nominate (in no particular order):
1. What's Cooking in the Burbs
3. Unique and Chic Creations
Thank you so much, Jessica and Leslie for the nomination!!
There's more to this post! Click to keep reading.