I love living where I live almost every second of the year. All except for early spring because the rest of the world seems to start warming up and we're still pretty cold here. And it's funny because I never cared until Facebook came along and all of my friends from warmer states started sharing their swimming and green grass and flip flop pictures. Where I live, March does start to warm things up. But, the truth is, our last frost date isn't until June. JUNE, people! We freeze at night here until June!
That doesn't mean that we can't make and play with things that remind us of warmer temps. Have you ever played with Moon Sand? I found it when my oldest was about 3 or 4 (she's 9 now! YIKES!). She used to play with it for hours on end! I mean, my kids love play dough, but Moon Sand is a totally different level of obsession. My youngest has never played with it before. I decided it was high time he give making homemade moon sand a try! But not with the expensive store bought stuff. The (super duper ridiculously easy) homemade kind!
You guys, I'm not gonna lie. This is the coolest stuff ever! I had a hard time handing it over to my son. I just wanted to build with it myself!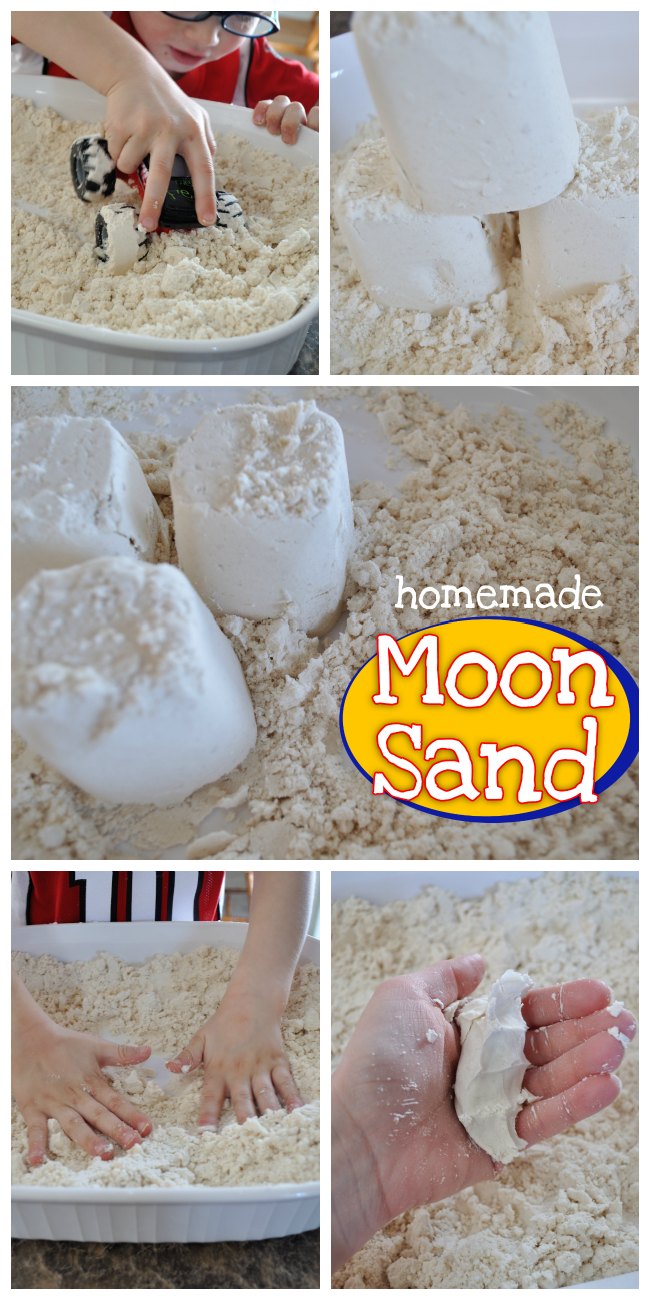 It really is easy (and cheap!) to make! All you need is 4 cups of flour and 1/2 C of baby oil.
Mix it up really good with your hands until it looks like this.
Then, put it down and hand it to your toddler. Oh…maybe that was just me that had a hard time doing that.
His favorite thing was driving his monster truck through it. I heard "vroom, vroooooom" for a couple of hour straight! And as a mom with an often bored toddler, that screamed success!
So, seriously, go mix a batch up! Build yourself a little sand castle until it warms up outside and you really can!