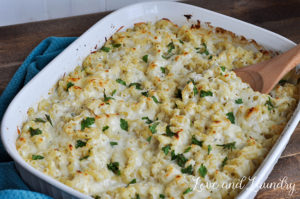 Wisconsin Mac and Cheese
Ingredients
1 16 oz package of elbow macaroni
1 cup shredded mozzarella cheese
1 cup shredded Swiss cheese
1 cup grated Parmesan cheese
1 cup shredded provolone cheese
3/4 cup ricotta cheese
1 cup sour cream
1 cup half and half
1 tablespoon fresh parsley
1/2 teaspoon Italian Seasoning
1/2 teaspoon garlic salt
Instructions
Preheat the oven to 400 degrees
Cook the elbow macaroni according to the package directions
Meanwhile, grease a 9x13-inch baking dish.
In a bowl, mix together the Swiss, Parmesan, and mozzarella cheese. Set aside 1/2 cup to use for the topping later.
In another bowl, stir the remaining ingredients together until smooth.
After the elbow macaroni is cooked and drained, add it to the second bowl and toss together until all of the macaronis is well coated. Add the Swiss, Parmesan and mozzarella and stir to combine just a bit.
Pour into the 9x13-inch baking dish. Sprinkle the extra cheese over the top.
Bake for 10 minutes and then broil for an additional 5 minutes to crisp up the top.
Serve immediately!
Recipe by Love and Laundry at https://loveandlaundry.com/wisconsin-mac-cheese.html