This post should probably be called THREE Weeks at the Websters! Oh my goodness….it's been a couple of weeks since I've been able to update. Things got busy around here. Like super busy! I'm going to have to do a condensed version of Week at the Websters to fit it all in! Haha! And actually this current week has been pretty low key, thankfully. It took me a couple of days to recover from all the crazy we've had going on around here. Lots of big, wonderful things have happened! Just a fair warning, this will definitely be a photo heavy post!
The weekend before Halloween was super busy! It felt like a whole bunch of big things were falling one right after the other. I don't think I got very much sleep for a week straight.
It started with Bria's big assembly. Bria is the the FCCLA (which stands for Family, Career, Community Leaders of America) in her middle school. It's actually a really good program to teach kids leadership. Bria has grown a lot from it. And so have I! Bria is a very ambitious girl and chooses HUGE projects. Last year, she headed up a toy drive for the local Domestic Violence and Sexual Assault Center. She collected thousands of toys and hundreds of dollars more to buy more toys and donate gift cards to the parents. It was amazing! This year, she wanted to do an assembly for her school. She contacted a company that comes in to do school assemblies on positivity and arranged for them to come. But she also presented part of the assembly herself. She took 15 minutes and got up to speak in front of 1500 kids at her school. I can't even wrap my head around it because I absolute hate public speaking! Bria is amazing at it. As part of her assembly, she also ran a grade vs grade challenge to put stIt icky notes on a poster filled with positive messages and quotes. It was really cool!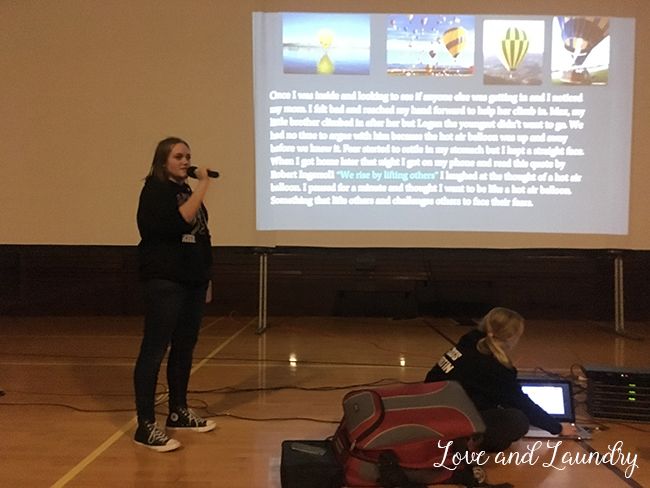 She even caught the attention of the local news and was featured on the 10 o'clock news last week about the positive impact it had.
On the same day as her big assembly, we had family come to town to watch Bria in her band concert which was the same night.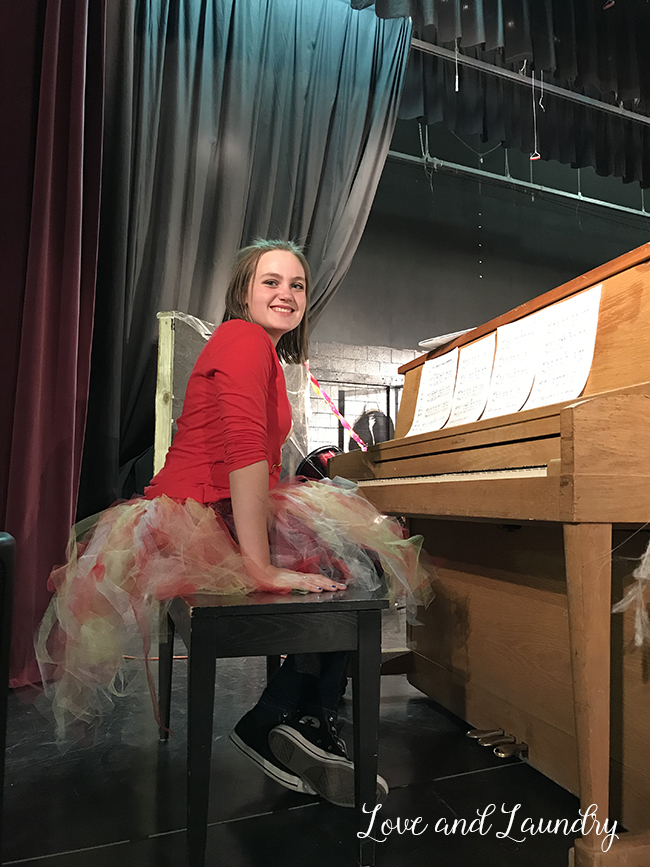 Bria is playing the piano for Jazz band and the flute for Symphonic band this year. Jazz Band is extra curricular and she's been going to school almost an hour early every day since school started to play more music. I love that music is her passion!
The band concert was right before Halloween and all of the kids dressed in their costumes to play (which is why Bria is wearing her fluffy tutu.
And I can hardly even believe it, but Bria turned 14! In Idaho, kids can apply to get their learner's permit to start driving when they are 14 1/2, and that's all we've heard about the last couple of months. Bria thinks we're being extra strict, though because I'm making her wait to start driving until she is 16. I'm just not ready! I'm pretty sure I won't be ready in 2 years, either. Why can't they stay little?!?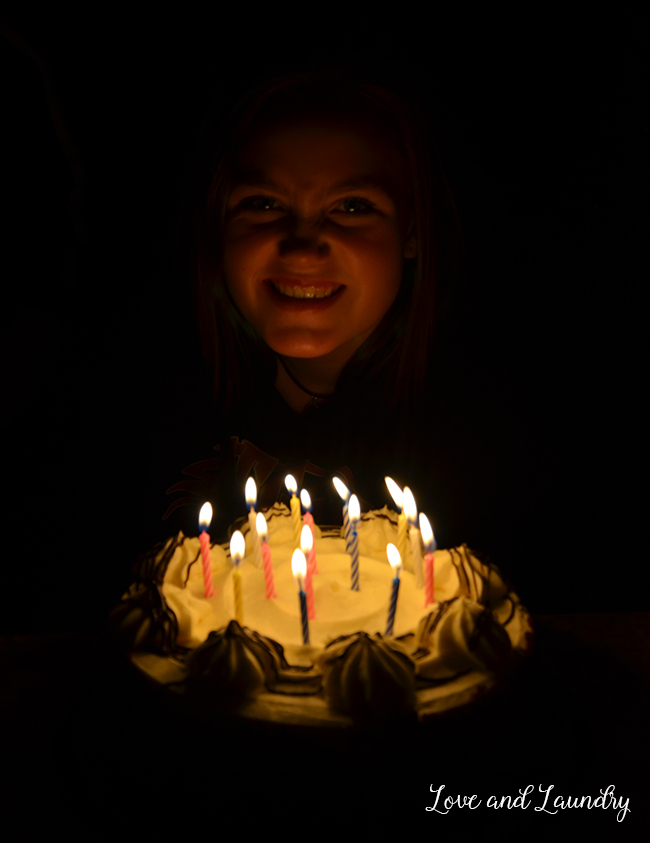 We had to have Bria's party a little early this year and I'll tell you why in a bit…
Naturally while cousins are in town helping us celebrate Bria's birthday, we had to go play together, too! That's how the kids create memories, right? So, my sister and I loaded all the kids into the van and took them to a corn maze!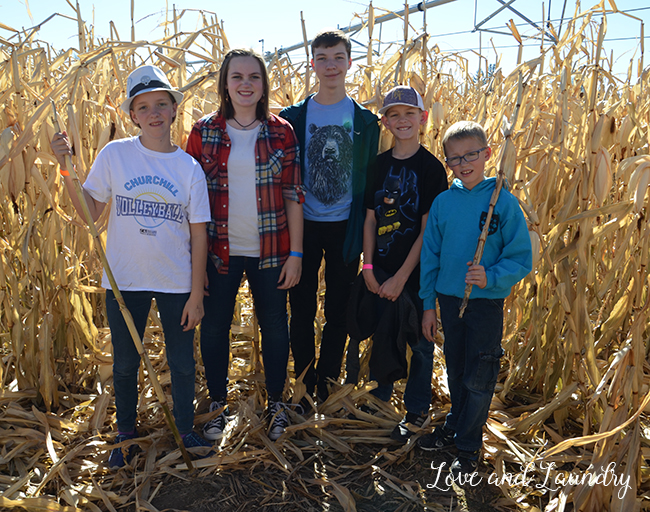 The weather was absolutely gorgeous! It's been cloudy and cruddy every day since that weekend. We've even had a few little snow storms a couple of times.
We always love it when our out-of-state cousins come to hang out, even if it's only for a couple of days!
After family left and just in the nick of time, we finally go the chance to carve pumpkins right before Halloween!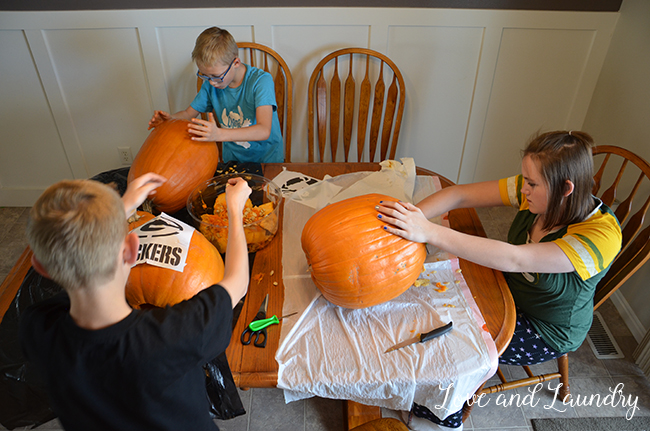 Max found a Green Bay Packers template on the Packer's website, but it didn't work out really well. I think it was too detailed and the pumpkins we bought at the pumpkin patch were really thick and hard to cut through. He compromised really well, though. You can't even tell that where he was trying to carve the word PACKERS is now the mouth to his Jack-O-Lantern.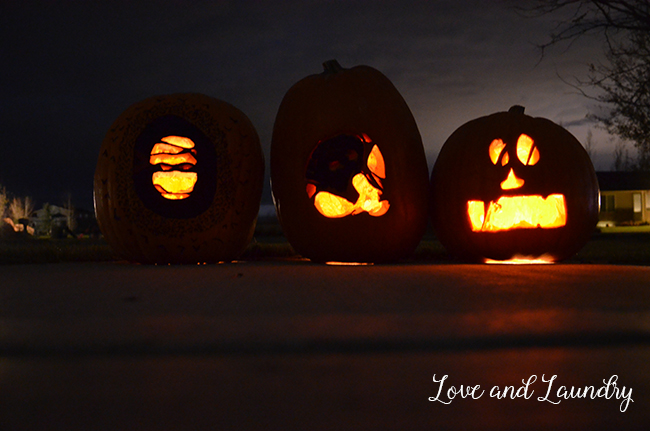 For Halloween, Max dressed as a Packers player (he's our super-fan!)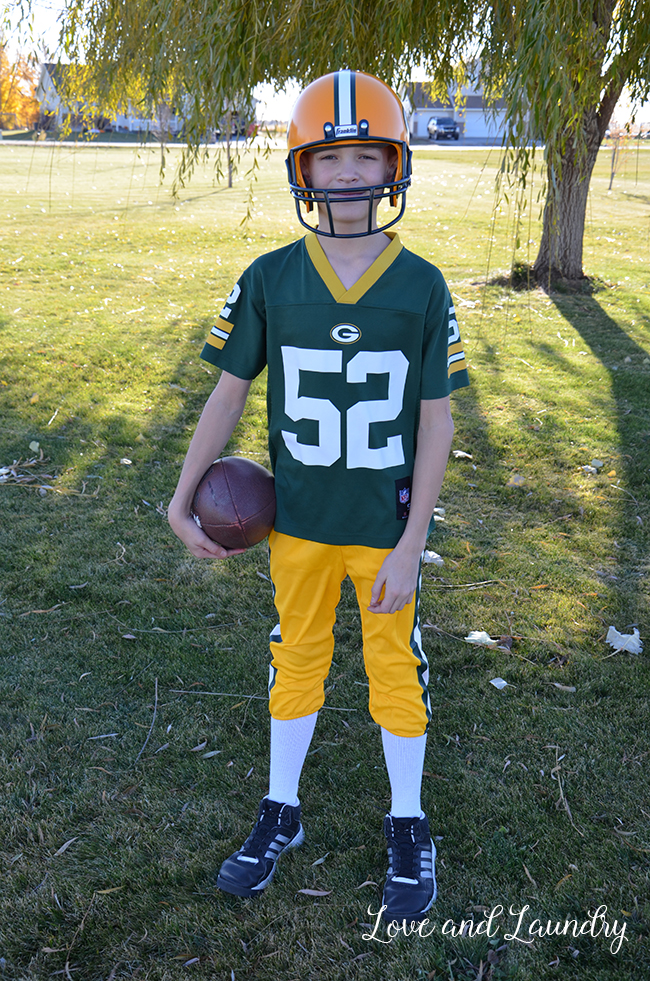 Logan dressed as a Ninja.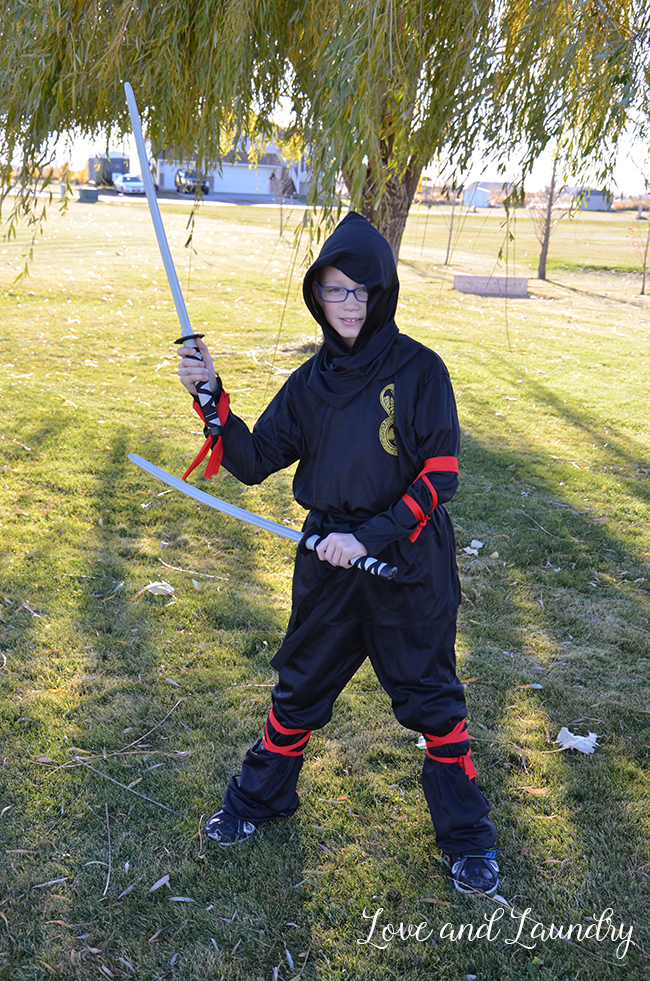 Bria dressed as The Flash (which is her very favorite show!)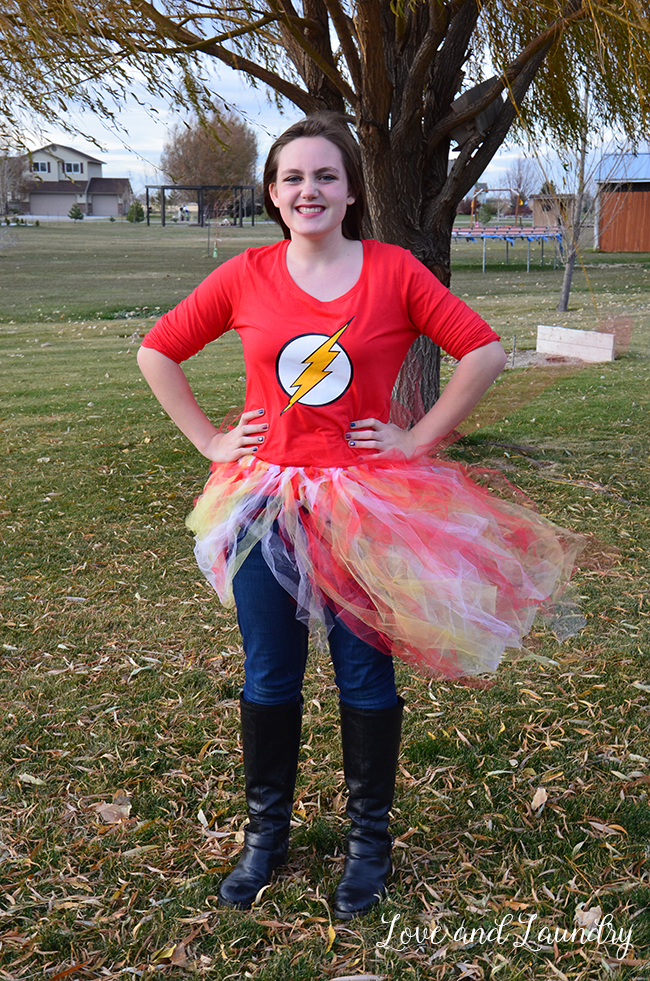 Bria actually dressed up as a scarecrow for school. The Flash tutu we made for her was pretty fluffy! It may have caused some maneuvering difficulties walking in the middle school hallway.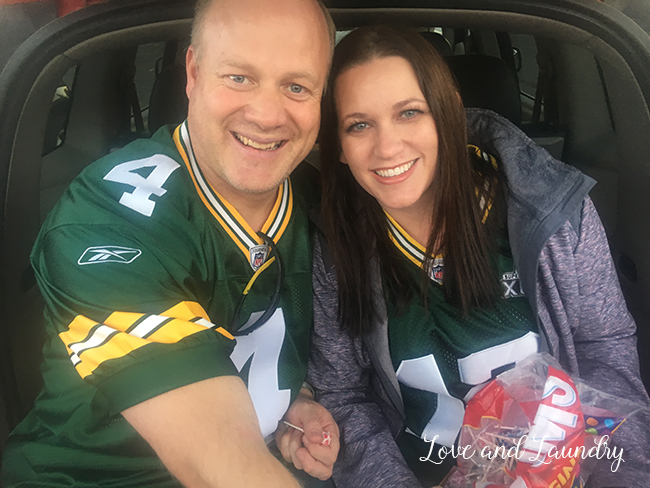 Dave and I are not big Halloween people. I know that some people love it more than Christmas, but we really just tolerate it. But for the church trunk or treat, we both put on Packer's jerseys and called ourselves fans (you know, since our son was dressed up as a Packer's player). That is my kind of costume – almost a non-costume! Haha!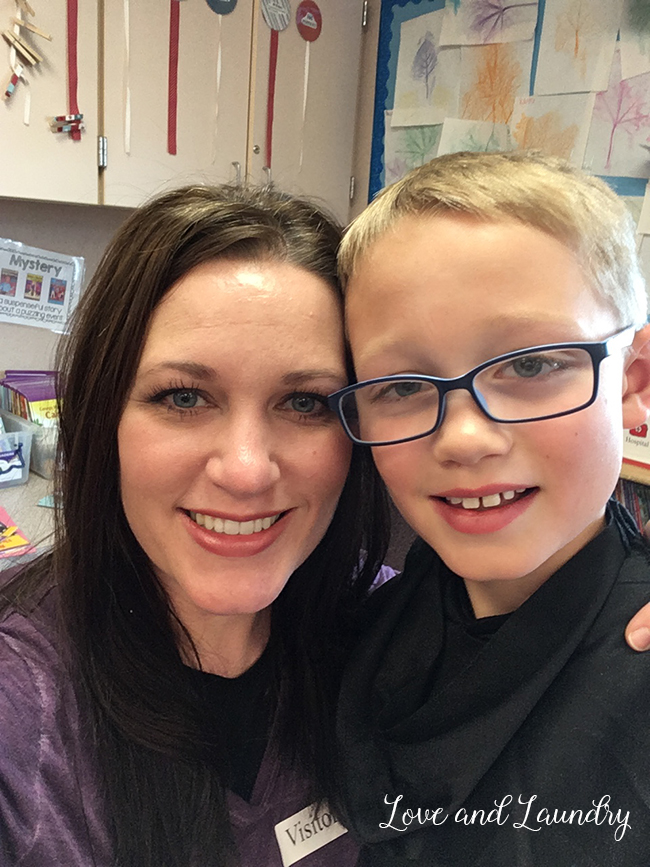 On Halloween, I got to go help out at Logan's class party! And you guys, I am terrible at helping at class parties. When Logan was in 1st grade, I did a Halloween craft and it used hot glue. I mean, I know that hot glue is, well, HOT. But for some reason it didn't cross my mind that it might actually be inappropriate for a group of 1st graders. It was a disaster. This year wasn't quite as bad, but it still wasn't great. I planned an art project where the kids drew with chalk on construction paper. In my mind, I thought they would really love it because kids hardly ever get to use chalk. But what was fun in my mind turned into a bunch of kids wiping their chalk-dusted hands all over their beautiful Halloween costumes. Oops! At least chalk washes out easily and hopefully not too many moms were mad that their kids costumes came home dirty because of me. I'm pretty sure the crash test dummy who had on yellow gloves (that couldn't be taken off because they were part of his costume) and who decided to use red chalk went home to an upset mom. His gloves were covered in red chalk!  Please remind me to sign up for the treat next year! Haha! #momfail
Halloween is always super busy, but things didn't slow down for us afterward either. We had more family come to town to visit because Logan got baptized!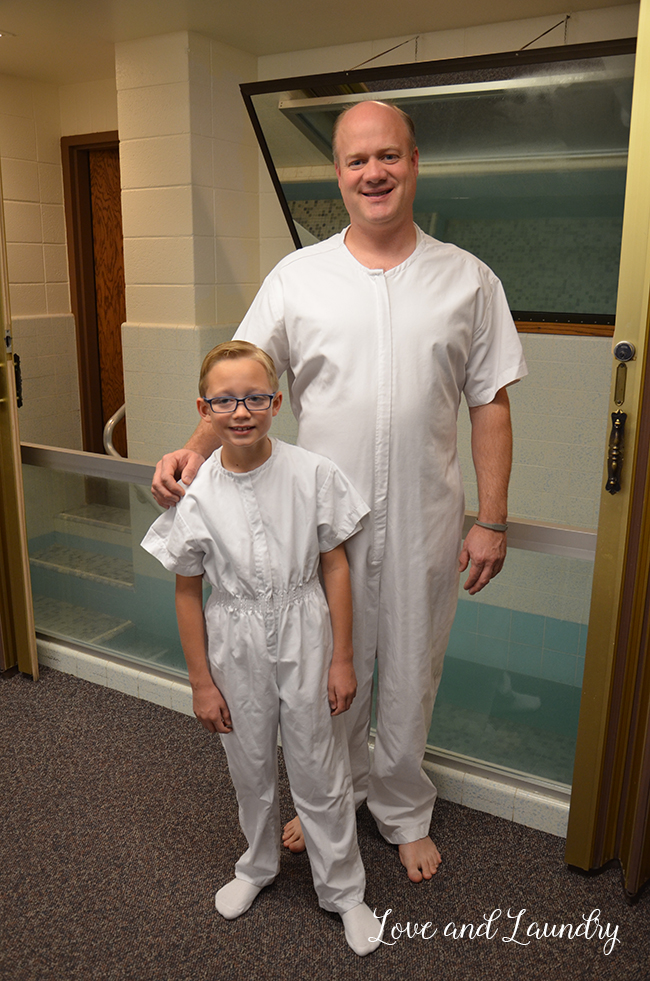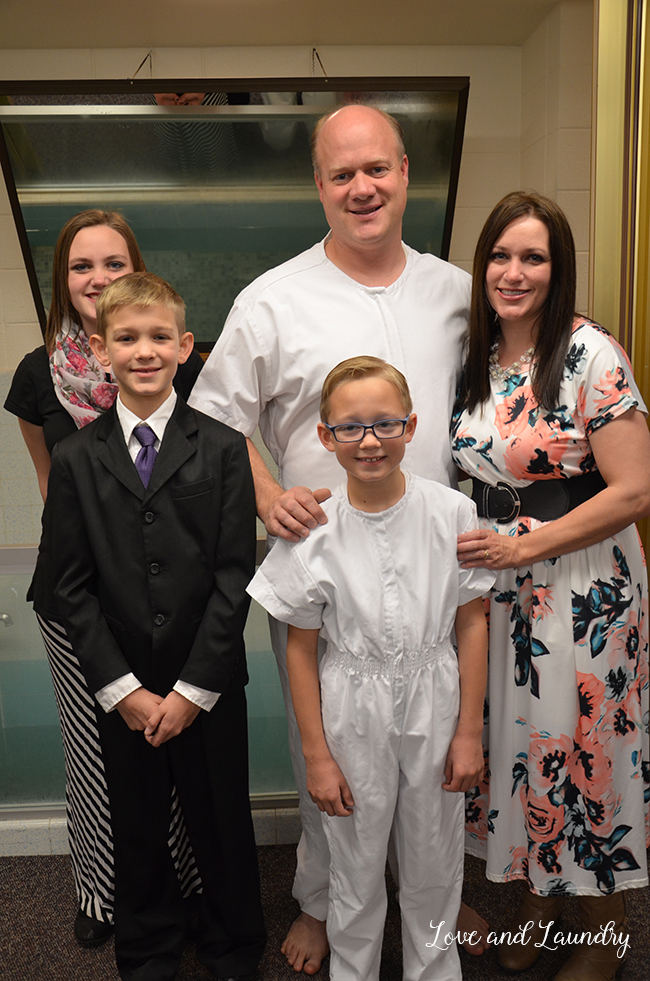 In our church, kids get baptized when they are 8 years old.
I cried a little bit watching him. Mostly because I am so proud of Logan! But also because he is our youngest and the last one in our family to get baptized. I know that there are going to be lots more big milestones, but this felt like the passing of one phase to the next in raising our kids.
His special day was so beautiful! The weather was kind of stormy and it was snowing a little bit, but lots of family and friends came to help celebrate. Even Grandma from New Mexico came all the way up to watch. We had a huge luncheon at our house afterward. It was a lot of fun!
Grandma got to stay for a long weekend and our kids soak up every minute they get with her. Max even talked her into a game of Monopoly and it lasted 4 hours! I can't believe she stuck that one out.
Grandma also got to be here for Bria's actual birthday. I had Bria celebrate early because her birthday was the same weekend as Logan's baptism. I wanted both to be special and to be completely honest, there was no way I had it in me to pull of two parties in the same weekend. It was already tough enough to do two parties in two different weekends!
Even though we celebrated early, we surprised Bria and picked her up from school and took her to get frozen yogurt. She was so surprised because she thought we wouldn't do anything to celebrate. Being a mom is so fun!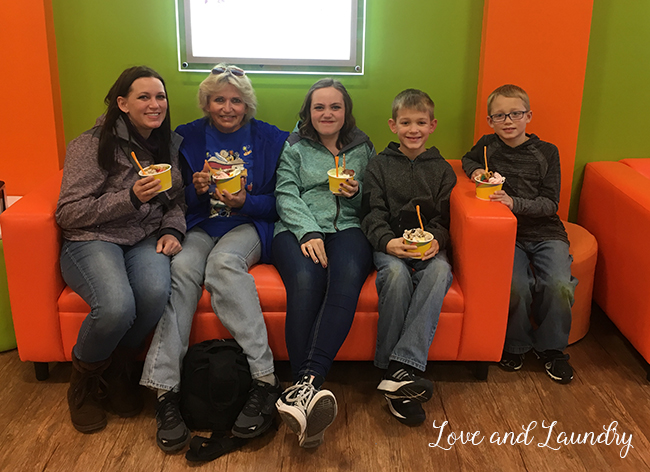 Well, if you stuck through this entire post, you deserve a reward! And  this is really a condensed version, too. I'm just going to push publish and not proof read because I feel so late getting this out. I said that I was going to publish my Week at the Websters posts on Saturday, but Sunday seems to work better for me. Especially if I haven't had time to get the post written earlier in the week. Sundays are an easier day for me to catch up on a post like this. So thank you for being patient with me as I get this figured out!
I'm really wanting to blog a lot more and I'm still trying to figure out how to fit everything into my schedule. There's a huge part of me that feels like I can't blog until everything on my to-do list is done and the house is clean. But, clearly, things are never going to happen to that kind of a perfectionistic standard. I'm working on finding a good cleaning schedule that I'm committed to sticking to so that I can work on blogging tutorials more often without feeling so overwhelmed with keeping up with the every day. I want to do at least a few tutorials and projects a week like I used to. I loved it so much and I've missed blogging as a regular part of my life.  I do have a fun project I'm sharing this coming week for sure! Yay!! But truly, thank you for being so patient with me while I stumble through my dream of being a blogger. ;)