I just changed my settings so if you are reading from an email, the whole post should come through for you. If for some reason it's not working, will you let me know? I want to make reading new posts as easy for everyone as I can.
Also, I have social media accounts all over the place, but Instagram is my favorite these days. I hardly post on Facebook anymore because only about 5-10% of my followers even see the posts I share. So, if you want to see social media posts from me more often or even just more that's going on, my Instagram handle is love_and_laundry. I also share on Instagram every time I post on my blog (plus extras), so you can get updates that way if it's easier for you. Instagram is mostly how I follow my favorite bloggers anymore.
So, this week….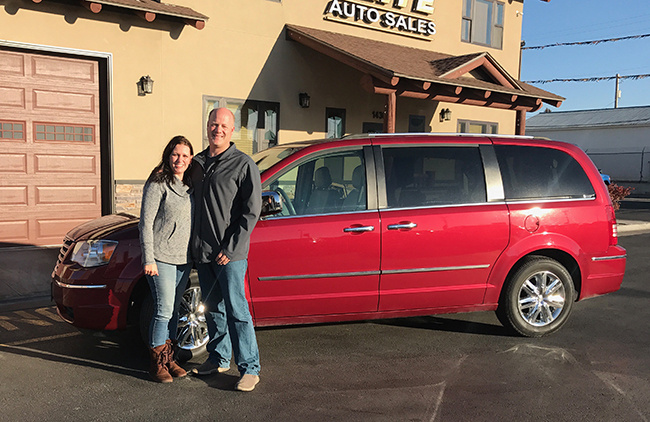 We bought a new minivan! Well, it's a new to us minivan anyway. For us, this is a pretty big deal. This is only the 5th vehicle that we've bought since we got married 17 years ago. 2 different cars for Dave to drive around in, and 3 minivans for the family (okay, me to drive, really, but I drive the kids most of the time). We're the type of people that buy a car, pay it off, and drive it for a long time afterwards. We drove our first minivan for over 10 years before I got crashed into outside of our house 2 1/2 years ago. (If you want to read about that crazy story, you can click HERE.) This is the first time that we have looked for a better vehicle when the one we already owned was fine.
We actually weren't really planning on buying anything different right now, but we have been talking about it since the summer. When we bought our last minivan, we were in a pretty big hurry to find one after the wreck and we grabbed the best one we could find at the time. But it was lacking in quite a few things that we really wanted, like a backup camera and leather seats, which are much, much easier to clean with kids. We looked at several minivans in back in July, but nothing seemed to fit right, so we gave up on the idea of getting another one for the time being.
Last week, I scheduled to have our minivan detailed to get it deep cleaned before the winter and I was coordinating with Dave on how to drop it off. We kind of questioned if it was worth getting it detailed right before winter when things are so messy and muddy a lot of the time. So, I suggested we get it detailed and then try to sell it so we could find another minivan that we liked better. It wasn't really something I planned to say, it just kind of came out. So, Dave got on Craigslist and right there was our PERFECT van! It had all of the extras we were looking for and was within our price range. But it was not as new of a model as we were hoping for. Our current minivan was a 2009 and this one was a 2010, so it didn't seem like that much of an upgrade. Did I mention that we were looking for another Chrysler Town and Country to replace the one that we had. So, one year newer of the same make and model almost felt like getting the same minivan but with added debt. BUT, the 2010 surprisingly only had 39,000 miles on it. How a minivan could be SEVEN years old and only have 39,000 miles on it seemed almost too good to be true! So, we went to the car dealership and gave it a test drive.
Not only was this minivan low in miles, but it was stocked with all the extras! I've heard the term "fully loaded" thrown around a bunch of times, but this was the most fully loaded I had ever seen any vehicle. Also, I should mention that I don't know very much about cars, so that could be my naivety, but to me it seems like it really has everything that we wanted plus a lot more! And we couldn't beat the low mileage. After test driving it and seeing the immaculate condition, we were sold! The only problem is that it is red and so now we are back to owing all red vehicles. I do not know what it is with us and red vehicles. It's definitely not intentional, but that seems to be what we always end up with. First world problems, I know. But I am so, so excited about getting something we love so much more! We're hoping this will be the minivan that we finish raising our kids with and intend to add lots of miles and LOTS of memories! Oh, and if you're wondering about our other minivan, I cancelled the detailing appointment and we ended up trading it in for our new one.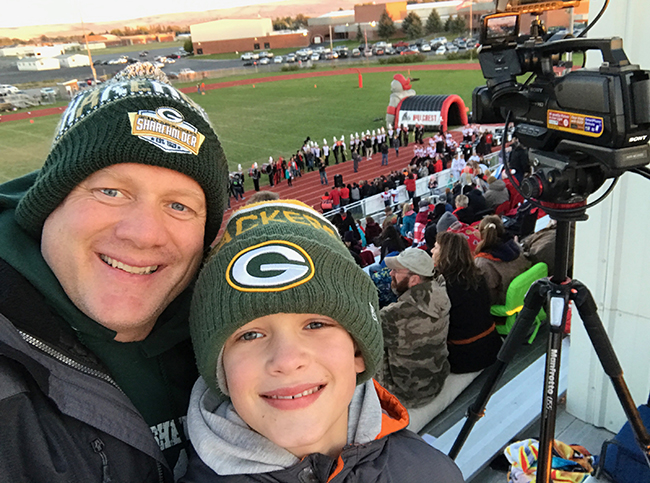 It's football season pretty much everywhere. We don't have any high schoolers yet, but we do go to one of the local high school games every week. Dave runs a videography company on the side and they hired him to film the games for them every week. Max begs nearly every time to go with his dad. He LOVES football! We don't always let him go, but we couldn't resist when the high school Dave films for was playing against the high school our kids will eventually go to last weekend. I texted Dave and asked him to send me a picture so that I could use it in our 2017 family book. This is what he sent. I love it so much!
We also had Parent Teacher Conferences at our kid's schools this week. With one in elementary and two in middle school, it was no small feat getting to see every single teacher. We only had a little over an hour on one of the two available nights to go. I don't know how we did it, but we made it everywhere we needed to be! Not without some dividing and conquering, though. Of course I am proud of all of my kids, but I feel especially proud of Logan. He's in 3rd grade this year. He is an August baby, so he is one of the youngest in his grade. And I don't know if it's this way everywhere, but where we live, it seems to be popular to hold kids back at home an extra year before starting kindergarten. So, Logan who just barely turned 8 right before school started has a lot of 9 and 10 year olds in his grade.  His age difference has really been apparent in the past, but this year, he is doing so, so well! His reading has improved the last several months tremendously and he is really loving school. It makes my mama heart so happy!!
The only thing we really need to work on is his handwriting. He holds his pencil wrong and his teacher asked me to help him learn to hold it right. She said fixing that should improve his handwriting. But the problem is, I hold my pencil wrong as well and Logan does it the exact same way I do it. Have any of you had experience teaching a child to have better handwriting? I'd love any suggestions!
Anyway, I hope you all have a happy weekend! We've got a lot going on with our ward primary program and family pictures. I'm so excited!!