Sometimes as a blogger, I get some cool opportunities, and I really feel like this was one of them. A few weeks ago, RawSpiceBar contacted me to see if I would be interested in trying one of their Monthly subscription packages. As soon as I realized what it was, I was totally on board.
So, this is what Raw Spice Bar is all about, and I think you'll think it's as cool as I do!
For $6 per month, RawSpiceBar will send you freshly ground spices from all over the world. And not only that, but they'll also include some delicious recipes for you to try the spices out on.
They sent me March's spices to try. It was a Persian Blend from Iran. I love that they send a story explaining why the spices were chosen and how they are used in that part of the world.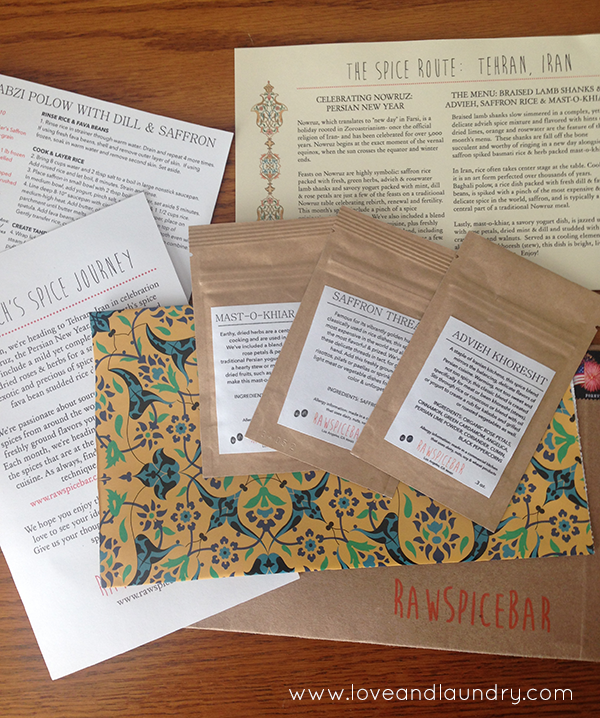 I got this beautiful package right before Easter and I really wanted to try them on Easter, but we ended up being out-of-town, so I waited until the next Sunday.
When I prepared the dinner, I mainly stuck to the recipes, but I did make a few changes based on what I already had available and what I knew my kids would eat. So, for instance, I used steaks instead of lamb shanks. I would have LOVED the lamb shanks, though. I'm sure of that!
While I was grocery shopping for the ingredients, my husband asked "What are you making again?" And I'm not going to lie, I had no idea what to tell him. I didn't have the recipe cards with me – only the shopping list – and I couldn't' remember how to pronounce the ethnic dish names! Haha!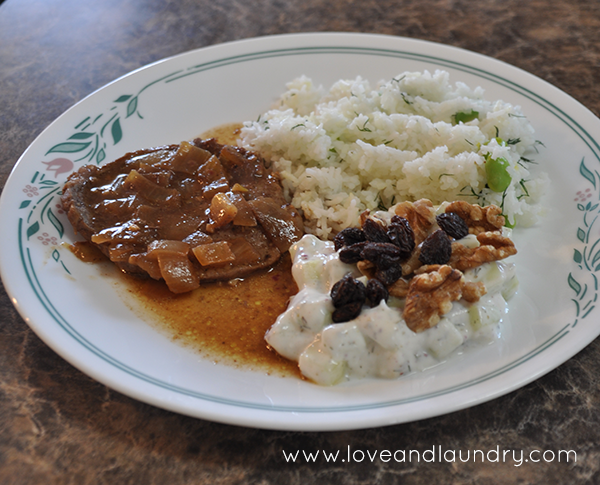 Clearly, my food didn't turn out nearly as beautiful as the photos from RawSpiceBar:

But, oh my word….it was absolutely DELICIOUS food!!! Even with my mediocre substitutions. I knew I was in for a treat when I opened the Advieh Khoresh (see what I mean about the pronunciation?) packet and it smelled like cinnamon and spicy all at the same time.
My favorite part was our dinner table conversation. I love having my kids be cultured and learn all about the world. This was such a great cultural experience for our whole family! We talked about how everyone in the world eats differently and in the Middle East, this is something that would typically be eaten. We talked about how we eat a lot of fast recipes at our house and how some moms in other parts of the world spend hours and hours cooking from scratch every day. We also joked about a hypothetical scenario where a mom in Iran made pizza and hamburger for her kids for dinner that same night and they were sitting around the table talking about how we eat in America. Haha! Using Raw Spice Bar really made dinner a lot of fun and opened up a lot of cultural awareness for my kids!
Every month, RawSpiceBar visits a different part of the World. April's is Japanese which I think is so awesome! I knew a lot of people who lived in Japan when I was going to college and got to eat all kinds of Asian food that they made for me. Kimchi, anyone? And, seriously, $6 a month for such a fun cultural experience is completely worth it in my book. I really love this type of thing!
If you're interested in signing up, here's a link to their website: https://rawspicebar.com/