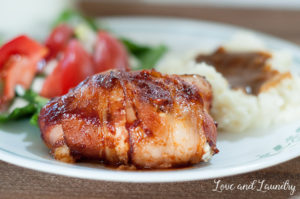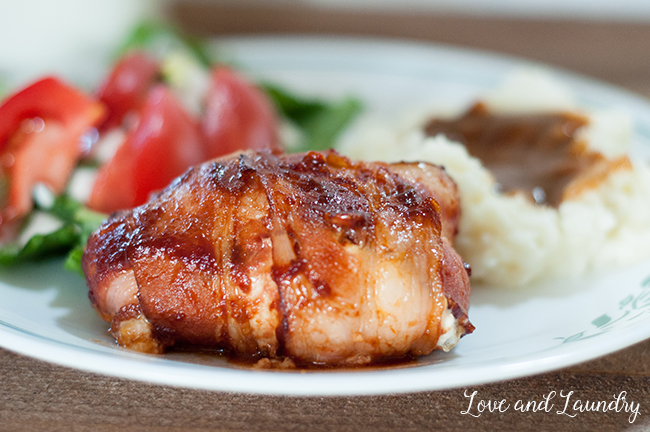 Ingredients
5 large boneless, skinless chicken breasts
1 4 oz can green chilies, drained
4 ounces cream cheese, softened
1 cup shredded cheddar cheese
20 slices of bacon
Barbecue sauce
Instructions
Preheat the oven to 375 degrees
Slice each chicken breast in half from the side - you want them to be thin but still large enough to roll. It's easier if you place onr hand on top of the chicken breast and slice from the long side using your other hand - just be careful cutting!
Pound the chicken so it's even thinner
Mix the softened cream cheese, green chilies, and cheddar cheese.
Scoop one large spoonful of the cream cheese mixture and put it in toward one short side of each flattened chicken breast. There is a lot of cream cheese mixture, so you can be generous!

Roll each chicken breast and place seam side down.
Take one piece of bacon and wrap it long ways around the each chicken breast - this covers the open sides to keep the cream cheese mixture on the inside.

Take another slice of bacon and wrap the opposite direction from the first slice of bacon.

Drizzle generously with your favorite barbecue sauce
Bake at 375 for 30 minutes. Turn the chicken breasts half way through to help them cook evenly.
After 30 minutes, baste with more barbecue sauce and turn the oven up to 400 degrees. Bake another 10 minutes to help crisp up the bacon.
Remove from the oven and enjoy! These are really addicting!
Recipe by Love and Laundry at https://loveandlaundry.com/bacon-wrapped-stuffed-chicken.html