I'm so happy that summer is here!! My kids have been out of school for 2 weeks now and we are still trying to get our summer rhythm. I have a million summer projects that I want to get done and so far it seems like most of my days are filled with things like swimming lessons and popsicles. Not that I'm complaining! Summer in Idaho is short and I really do want to soak up every last second that I can!! Hopefully soon I'll be able to tackle some of my projects. I want to paint and redecorate the boys bedroom and we're also working on re-staining our deck and painting our pergola. We have composite decking in two different shades and it's taken a bit of research to figure out exactly how to stain it so it can all be one color. I'll definitely post about some of my projects it when we finally get them done.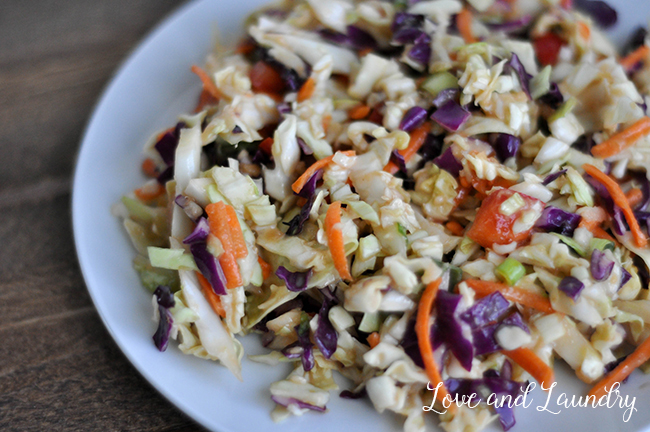 Lately, it seems like we are going to barbecues or potlucks almost every week and I'm constantly on the hunt for a good side to bring with me. I'm not normally a huge fan of coleslaw, but this Asian version is crazy delicious! It has a Thai flair but without the heat (although I'm sure you could add some red pepper flakes to achieve that if you are a heat lover).  And, it's super simple to throw together and makes a lot so it's perfect for a crowd.
Have you ever wondered how to get those perfectly long, shredded cabbage strips at home? You know the ones that are in gourmet restaurant coleslaw. I haven't had any luck using a grater or salad shooter to achieve it, but there is one amazing kitchen tool that does the job perfectly!
If you don't already have one, I highly recommend getting an OXO Chef's Mandoline Slicer! It has julienne blades that shred the cabbage into perfect cabbage strips! It can also slice veggies or cheese into even slices. It has 21 different cut settings with thickness settings in 0.5-mm intervals, straight and wavy blades, a built-in julienne and French fry blades (which can also be used to shred cabbage perfecly *wink*wink*).  If you are wondering, yes, OXO did send me one to try for this recipe. But in complete and total honesty, I already own a different mandoline slicer and OXO's mandoline is beyond comparison in both quality and the number of settings! If you are going to invest in a mandoline, this is definitely the one I recommend!
Look how gorgeously all of my veggies got shredded when I used the OXO Mandoline! Swoon!!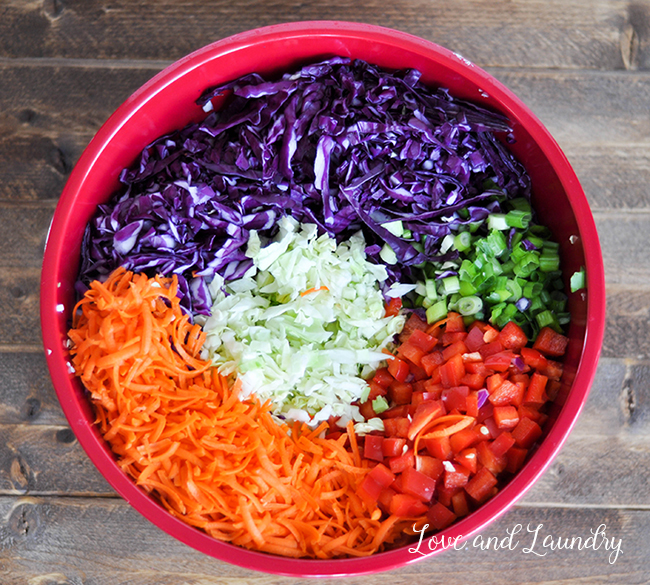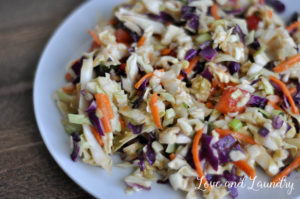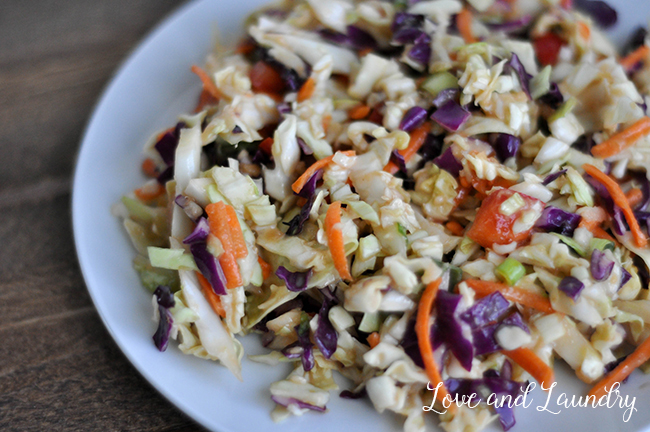 Print
Asian Coleslaw
Ingredients
For the Sauce
6 tablespoons apple cider vinegar
6 tablespoons vegetable oil
5 tablespoons peanut butter
3 tablespoons soy sauce
3 tablespoons brown sugar
2 tablespoons of minced ginger root
1 1/2 tablespoons minced garlic
For the Coleslaw
1 head of green cabbage, shredded
1 head of red cabbage, shredded
1 red bell pepper, chopped
2 carrots, shredded
6 green onions
Instructions
Add all of the ingredients for the sauce into a medium bowl and whisk together
In a larger bowl, toss together the vegetables for the coleslaw
Pour the sauce over the veggies and toss together before serving
Notes
The coleslaw can be made ahead of time, but wait to toss the sauce into the veggies until right before serving.
This makes quite a bit. It's perfect for a barbecue or a potluck!
To save time, buy a couple of small bags of pre-shredded coleslaw veggies and just mix in the sauce
Courses Side
Nutrition Facts
Serving Size 1 cup
Amount Per Serving

Calories 170

% Daily Value

Total Fat 10 g

15%

Sodium 389 mg

16%

Total Carbohydrates 18 g

6%

Sugars 10 g

Protein 4 g

8%
* Percent Daily Values are based on a 2,000 calorie diet. Your daily values may be higher or lower depending on your calorie needs.