Hi! My name is Shatzi. I know…you're wondering how to pronounce it. I'll give you a hint: it rhymes with Yahtzee! My name is a German word meaning sweetheart or treasure (although it's not spelled the same as the Germans spell it). Okay, now that you know about my name, let me tell you about the rest of me!
I am a mom of three awesome kiddos. Arguably the three awesome-est in existence. I'm super lucky and get to stay home with them full time.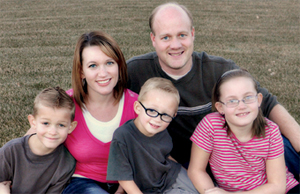 Here's a little bit more about me:
I'm a Mormon and I have been my whole life. It is a huge part of my life and almost everything I do stems from my faith.
I've been married to my husband since 2000. I know it sounds sappy, but he really is my perfect match in every way. We really are best friends.
We are HUGE Green Bay Packers fans. Our kids even chose to take our family vacation in 2016 to Lambeau Field instead of Disneyland.
I'm a complete francophile. I love everything about France! I took French in both high school and college but I still struggle to speak the language. Maybe one day! My husband and I traveled to France for the first time in the summer of 2013 and we both plan and dream about our next visit!
I have a love/hate relationship with cooking. I usually love to cook but hate to clean up. And I hate to cook in a dirty kitchen. So, some days, we eat amazing food and other days it's just a box of mac and cheese. My kids are so used to my culinary experimentation that they'll try almost anything I make. People are always asking me what my secret to non-picky eaters is…I think it's serving lots of different kinds of food!
I love my kids more than anything in the world! And I worry every day that I am not doing a good enough job. I think that's normal for every mom. At least I hope it is! They seem to be turning out just fine despite my flawed parenting.
I secretly want to be a real estate agent just so I can walk through all the homes. I'm a huge HGTV addict and hope that one day my husband and I can have a business flipping houses. We did it with our first home and we loved every minute of it!
Got questions or comments? I'd love to hear! Email me at shatziweb(at)gmail(dot)com
Privacy Policy:
We use third-party advertising companies to serve ads when you visit our Web site. These companies may use aggregated information (not including your name, address, email address or telephone number) about your visits to this and other Web sites in order to provide advertisements about goods and services of interest to you. If you would like more information about this practice and to know your choices about not having this information used by these companies, please see: http://www.networkadvertising.org/managing/opt_out.asp