I love this time of year! It's so fun to see what you are all sharing as we get closer to Thanksgiving! I am truly amazed by your talent!
This week's most viewed link was:
Slow Cooker Orange Chicken from The Recipe Critic. This looks yummy!!!
And a few of my favs:
These silverware pockets that Make It Easy Crafts are too cute! And perfect if you're hosing Thanksgiving!!
I luuuuuv this Little Red Dress that See Love Make made. So much talent!!
I've worked with fondant before, and I kind of stink at it! So, I can appreciate the detail that went into this adorable Minnie Mouse Cake that Amy's Cooking Adventures shared!
I think this Little Chef Attire that Sewing Our Life Together made is so cute! My daughter just had a baking party (that I will post about soon…if life ever seems to slow down!) that these would have been perfect for!
Don't forget to check the features at The Thriftiness Miss! And grab a button if you were featured!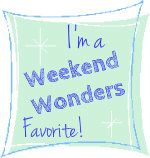 There's more to this post! Click to keep reading.