This week's most viewed link was:
I love this Wallet from Color Me Domestic. Such a great idea Gen!! I might need to make myself one or five.
And a few of my favs:
The idea of changing old CDs into Coasters from Taste of August is pure genius!!
The Pink Flour shared an adorable Children's Book Themed Baby Shower. So cute!!
I would never have guessed that these cute Valentine earrings were made from Dollar Store stuff! Great job, Jewels for All!
Don't forget to check the features at The Thriftiness Miss! And grab a button if you were featured!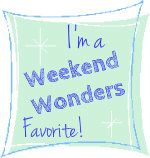 There's more to this post! Click to keep reading.