This week's most viewed link was:
Oatmeal Peanut Butter Chocolate Chip Cookies from Semi Homemade Mom. These look amazing!! I think I'll make some this weekend.
I'm not going to lie. I'm a little concerned that this Donut Milkshake Recipe from The Gingerbread Blog is even legal. It sure does look tempting!
And a few of my favs:
These Wooden Glitter Reindeer from The DIY Dreamer are so stinkin cute!
There is a small chance that I'm in the mood for comfort food right now. I would love some S'mores Croissants that The Pin Junkie shared. Yum-o!
I realized this year that I have a serious shortage of Nativities in my house. Can one really ever have too many at Christmas time? I really love this Nativity Scene Sign from Our Life in a Click.
These DIY First Aid Travel Kits from 2nd Story Sewing are genius! I could use about 10, I think.
Don't forget to check the features at The Thriftiness Miss! And grab a button if you were featured!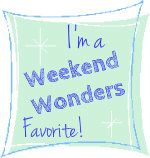 There's more to this post! Click to keep reading.